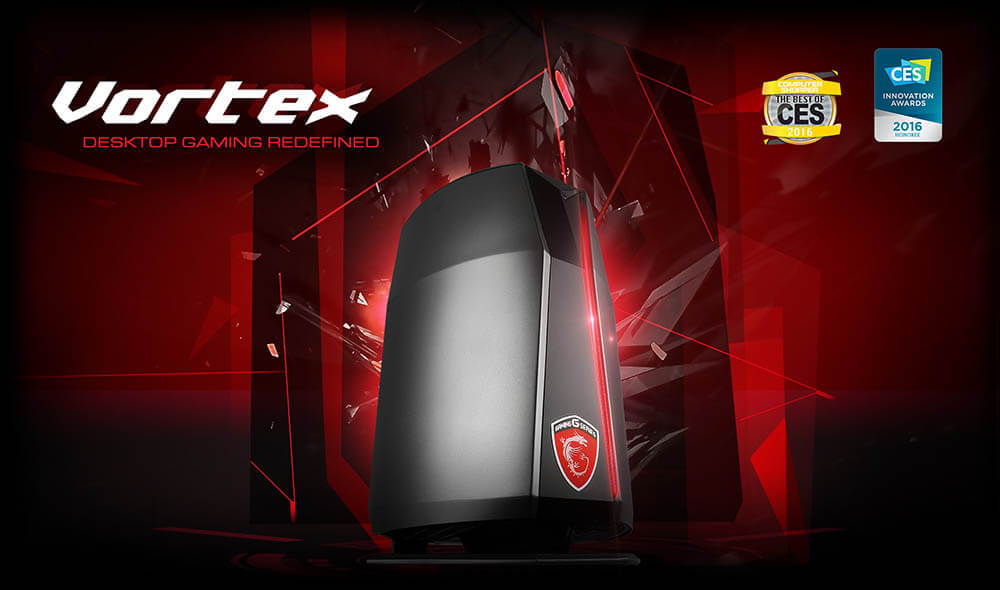 WATCH THE VORTEX TRAILER
MAKING THE IMPOSSIBLE POSSIBLE
Saying we poured our blood, sweat and tears isn't enough to describe the work put into designing and engineering the Vortex. We're proud to say that it has paid off. With an outside-the-box design, literally, the Vortex is an engineering feat that goes against all the status quos of desktop PC's to bring about a revolutionary take on desktop gaming.
WHEN SIZE DOESN'T MATTER
Everything you know is about to change. Standing at a mere 10.5" high, weighing as little as 8.8lbs, and measuring in at 6.5L, the Vortex pushes more power per inch than most mid to full size tower gaming PC's without the having to deal with the same bulkiness or weight.
MORE THAN MEETS THE EYE
Don't let it's size fool you. The Vortex packs as much punch as a fully loaded desktop gaming PC, sporting the most extreme hardware and cutting-edge technology without the massive weight.
OVERCLOCKABLE 6TH GEN INTEL CORE i7 DESKTOP PROCESSOR
Delivering the power you need to handle any task at hand. The unlocked 6th Gen Intel Core i7 processor offers the extreme performance required for CPU intensive programs and jobs. Overlclock the performance for even more power or upgrade the CPU if you're looking for even more performance.
DOUBLE THE POWER, QUADRUPLE THE PIXELS
Drive more graphics power and higher resolutions with dual SLI NVIDIA GeForce GTX graphics cards. Play games in stunning detail, even at 4K resolutions. Jump into a revolutionary gaming experience with VR.
SILENT STORM COOLING
A revolutionary concept needs a radical design. With the Vortex we pushed the limits of power in a system with minimal footprint, leading to an unique approach to the cooling design. A single large fan draws in cool air from the bottom and dissipates heat through the vents at the top, creating a cyclone of airflow throughout the Vortex for a super efficient and whisper quiet cooling design that'll keep your game going for hours without a hiccup to stability.
DOMINATE THE HOUSE
Made to fit nearly anywhere, the Vortex is the perfect system for minimalists with more than enough power to satiate any type of gamer.
THE ULTIMATE GAMING ROOM
Forget single display setups, the Vortex has the ability to support up to 6 displays to change your room into a command center. Conquer your enemies, manage your stream, and update your status on social media all at the same time. The Vortex also supports NVIDIA Surround View for a more immersive gaming experience.
EPIC ENTERTAINMENT CENTER
Enjoy a complete living room experience with the Vortex. Unlike consoles, the Vortex can take full advantage of the big screen like stream HD videos, watch your favorite Twitch streams, or tac on your peripherals and enable Steam's Big Picture mode to play your favorite PC games in 4K.
READY FOR THE FUTURE
The era of VR gaming is near and the Vortex is ready for it. With more than enough power and hardware to enter the realm of virtual gaming, get ready to play the future in an immersive experience unlikely anything you've seen.
*Check your VR devices' minimum requirements for optimal performance
MOBILE APP
Take control of the Vortex's Dragon Center from your phone to adjust performance, monitor its current status, or customize the colors at will.
APP PORTAL
Access all your favorite apps with the app portal. Customize it, categorize it, and launch your programs in just one click.
BUILT LIKE A DESKTOP, UPGRADES LIKE ONE
Just because it's smaller doesn't mean we've ditched the core characteristic that defines traditional desktop gaming. Upgradeability. Add more storage and memory. Change out the socketed desktop CPU if you need more performance. Even upgrade the dual MXM NVIDIA graphics cards to the next generation if you want top-of-the-line visuals.
EXPAND BEYOND EXPANDABLE
We went all out with our ports to give you the freedom to connect everything and anything you need to get your battle station fully equipped. Multiple USB 3.1 ports allow you to connect all your gaming peripherals anddevices. A total of 6 display ports (HDMI, Thunderbolt 3 and mini-Display) can turn your room into a command center while supporting 4K displays. Dual Killer Networking Gigabit ports can double the speed and stability or connect to multiple networks.
BUILT-IN GOLD CERTIFIED POWER SUPPLY
Save on space and cable clutter with the integrated, super-efficient 80 plus Gold-Certified power supply. Use less energy, generate less heat, and maintain system stability over longer periods of use while still powering the extreme performance of the Vortex.
NAHIMIC AUDIO ENHANCER
Originally developed for French military fighter pilots, Nahimic's digital audio technology is now the hands of gamers. Capture every tidbit of ambient sound in the environment, feel every explosion or the crack of gunfire in the distance, and hear every footstep with a 360 surround sound experience for competitive play.
KILLER DOUBLESHOT-X3 PRO
Gaming today requires more bandwidth than ever, especially for those who stream and game at the same time. Enter Killer Doubltshot-X3 Pro. Take advantage of your network with dual Killer Ethernet E2400 ports and the Killer Wireless-AC 1535. Run all three at the same time for increased network bandwidth, smoother gameplay, and better streaming quality.
KILLER NETWORK MANAGER
Customize the speed and bandwidth for all your programs with the easy-to-use Killer Network Manager. Prioritize bandwidth for programs that you use more often and see which how much of your network is used for each application.
MULTI-USER MIMO SUPPORT
Killer Wireless-AC 1535 introduces full MU-MIMO support, allowing wireless access points to for multiple transmissions at the same time. This provides faster download and upload speeds, lower latency, and a better connections.
KILLER SHIELD
Protecting your game's LAN network from jitter and lag spikes, the Killer Shield K9000 delivers a smoother online gaming experience by reducing latency so you can't a blame bad game on your network anymore.
Processor:
Intel Core i7-6700K (4.0GHz - 4.2GHz)
Chipset:
Intel Z170 Chipset
Graphic:
NVIDIA GTX1070 8GB
Memory:
32GB DDR4 2133MHz
SoDimm:
4 Sockets; Max Memory 64GB
LAN:
Dual Killer Gaming Network E2400
Wireless:
Killer N1535 Combo (2x2 ac)
Mic-in/ Headphone-out:
1/1/SPDIF OUT
Mini Display Port:
2 x MiniDP v1.2
USB Type C:
2 x Thunderbolt
Dimensions:
7.61" x 7.01" x 10.55"
2-Year Limited Warranty (Includes 1 Year Global)