G7 Series
Mobile Advance brings you the next evolution of mobile gaming experience by introducing ASUS ROG G752VY-DH72 17.3". It is keenly designed in a new Armor Titanium and Plasma Copper color scheme. With the added advantage of 6th generation Intel® Skylake Core™ i7 processor and the latest NVIDIA GeForce GTX 980M graphics card our laptops give unbeatable performance.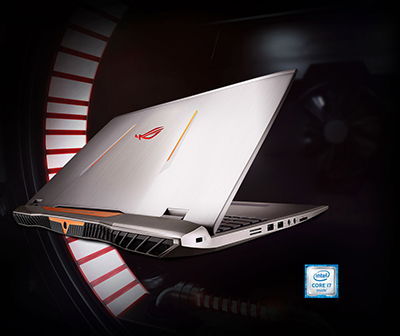 UNSHACKLE YOUR GAME
ROG G701 is a thin and portable gaming laptop that's engineered for incredible gaming performance. It features overclockable NVIDIA® GeForce® GTX™ 1080 graphics and an Intel® Core™ i7 K-SKU processor — giving it the potential to go toe-to-toe with even the most hardcore of all gaming desktops. Its gaming keyboard features anti-ghosting with up to 30-key rollover, while NVIDIA® G-SYNC™ technology gives it super-smooth visuals.
There are no products listed under this category.