Interceptor DS200 GAMING Mouse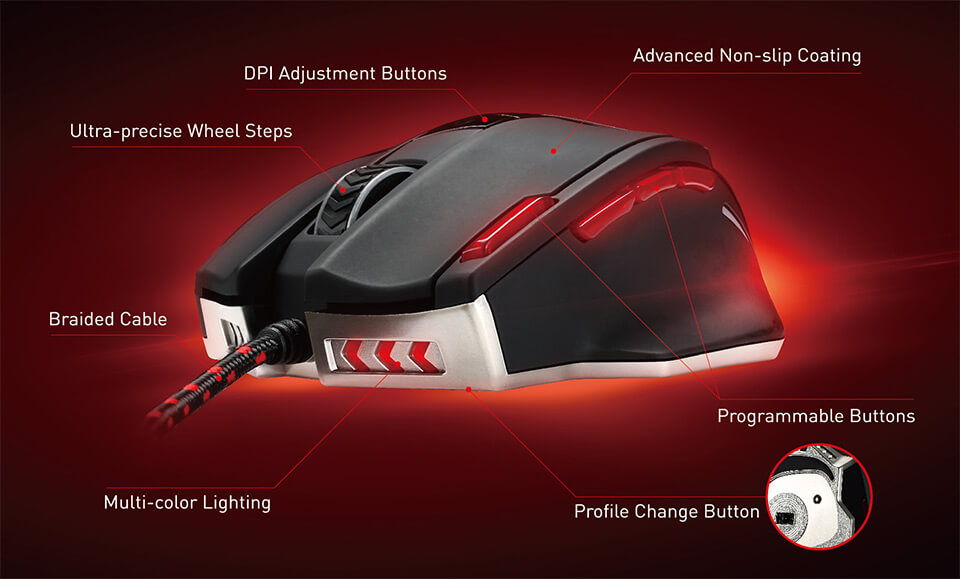 Key Features
Ergonomic Design

Advanced Anti-slip Coating

Multi-function 9 Programmable Buttons

Gold-plated Connector & Braided Wire

Exclusive Gaming Software


RBG Backlight
Ergonomic Design

The advanced design of DS200 GAMING Mouse maximizes wrist comfort while hours gaming.
DS200 GAMING Mouse helps prevent the pain or ease repetitive motion or strain.

Weight System

Change the weight with eight 2.4 gram weights to suit the game. Giving you the perfect weight for a perfect feel.

9 Programmable Buttons for Multi-function Setting

Two DPI setting buttons below the wheel
Four Side buttons on the left side
Exclusive Gaming Software
MSI DS200 GAMING Mouse software gives you total control over the mouse.
Re-program all your buttons

Basic and advanced Windows function
Media function
Game function like Combo Key and Fire Key
Macro setting and recording

Basic, Advanced, and Media function hot key make your work more convenient.
Combo Key can let you setup a hot key of combination from your keyboard. It is especially useful for FPS or ARPG games.
Fire Key can let you setup frequency and delay time of multi-click

Macro manager helps you recording and setting your Macros.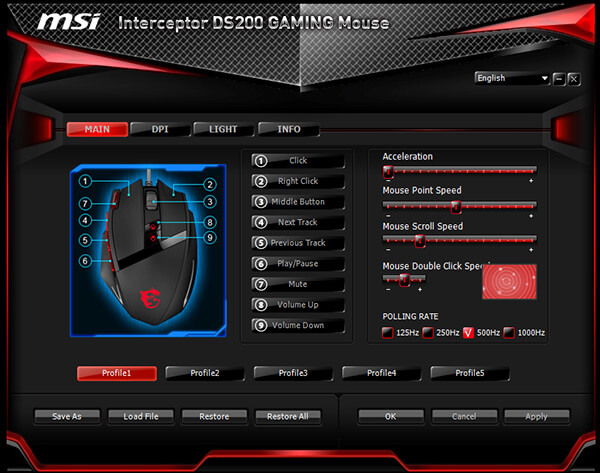 Setup your favorite DPI volume separately for each profile or DPI adjust button.
Fully adjustable RGB Backlighting.
Adjusting your backlight color from 16 million RGB colors.
Adjusting backlight breathing mode speed.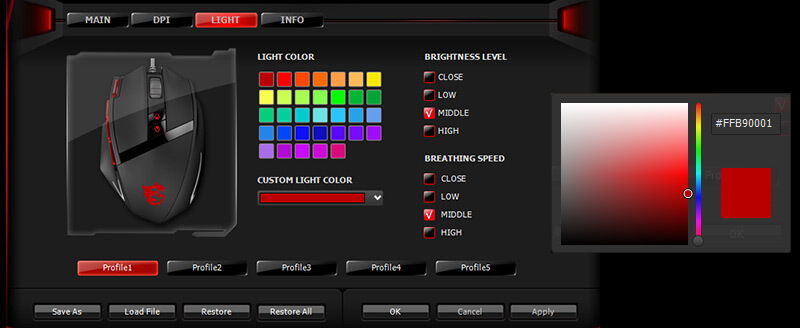 Adjust your click speed or pointer speed for the best user experience.
All your setting can be saved into different profiles include button setting, DPI setting, and backlight setting.
Up to 5 profiles and quick switch by the Profile Switch Button on the bottom of the mouse.