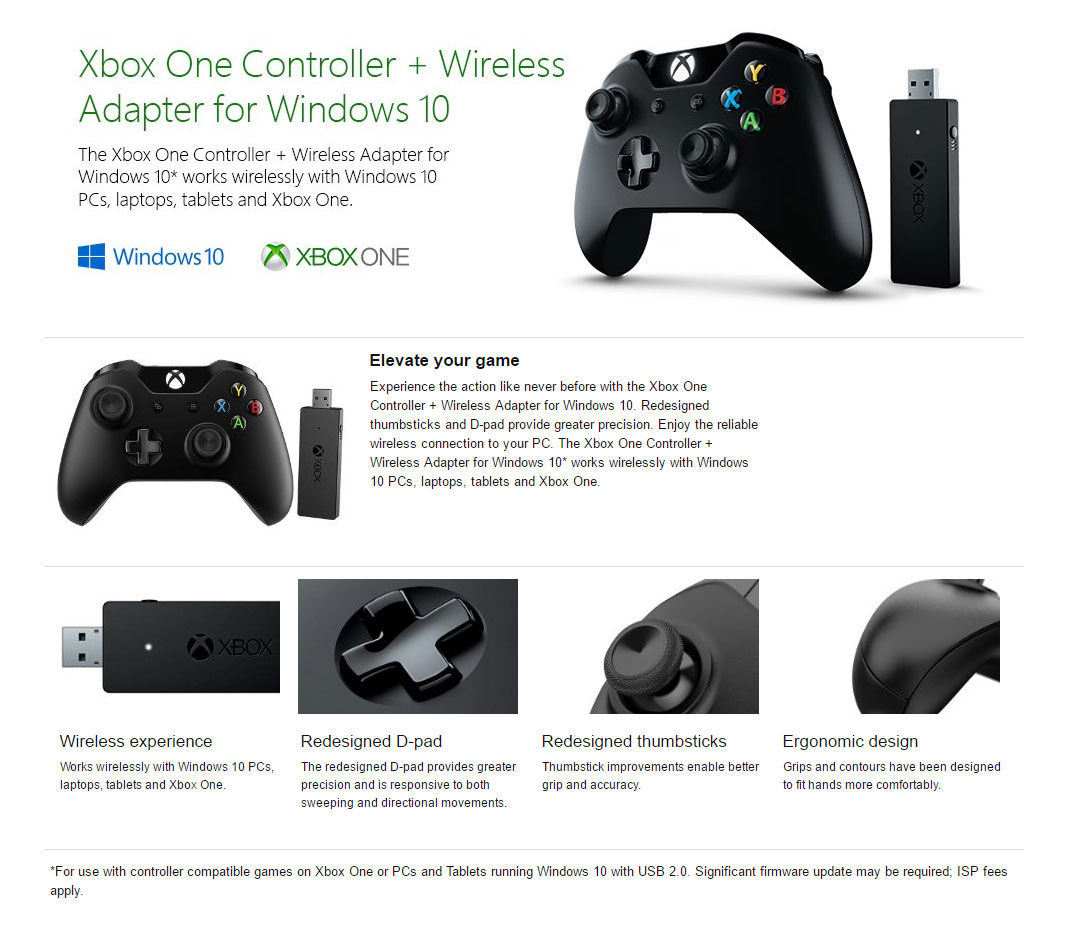 Experience the unique intensity, precision and comfort of the Xbox One Wireless Controller. Impulse Triggers deliver fingertip vibration feedback, so you can feel every jolt and crash in high definition. Responsive thumbsticks and an enhanced D-pad provide greater accuracy. Plug any compatible headset into the standard 3.5mm stereo headset jack. Works with Xbox One and Windows 10 PCs and Tablets.
*
What's Included
Xbox One controller & Wireless adapter
2 AA alkaline batteries
1. Wireless Adapter

Play with your Xbox Wireless Controller on Windows 10 PCs, laptops, and tablets.

2. Redesigned D-pad

The redesigned D-pad provides greater precision and is responsive to both sweeping and directional movements.

3. Redesigned thumbsticks

Thumbstick improvements enable better grip and accuracy.

4. Ergonomic design

Grips and contours have been designed to fit your hands more comfortably.



System requirements
Computer
Requires a PC that meets the requirements for and has installed one of these operating systems: Windows 10
Pentium 300 MHz or higher processor
Connectivity
Powered USB port
Memory
128 MB of RAM
Hard Drive space
150 MB of available hard disk space
* Impulse Triggers available in supported games. See xbox.com/xboxone/compatibleheadsets for headset compatibility details. Wired PC/Tablet use requires USB cable (not included) and drivers available at xbox.com/ xboxone/PC-controller.