ROG G20CI DESKTOP COMPUTER
Deceptively Powerful
ROG G20 is a 9.5-liter gaming PC designed to dominate the small-form-factor gaming desktop segment. It's powered by the latest 7th Generation Intel® Core™ i7 processor and the latest NVIDIA® GeForce® GTX 1080 graphics — giving it the punch required to run the latest AAA gaming titles at their highest graphics settings.
The G20 features ASUS Aura lighting effects, an ESS SABRE HiFi audio headphone DAC and amplifier, and ROG-exclusive gaming software including Aegis III. An advanced heat management design ensures effective cooling for stable performance during marathon gaming sessions. On top of that, it runs silently at just 22dB at idle.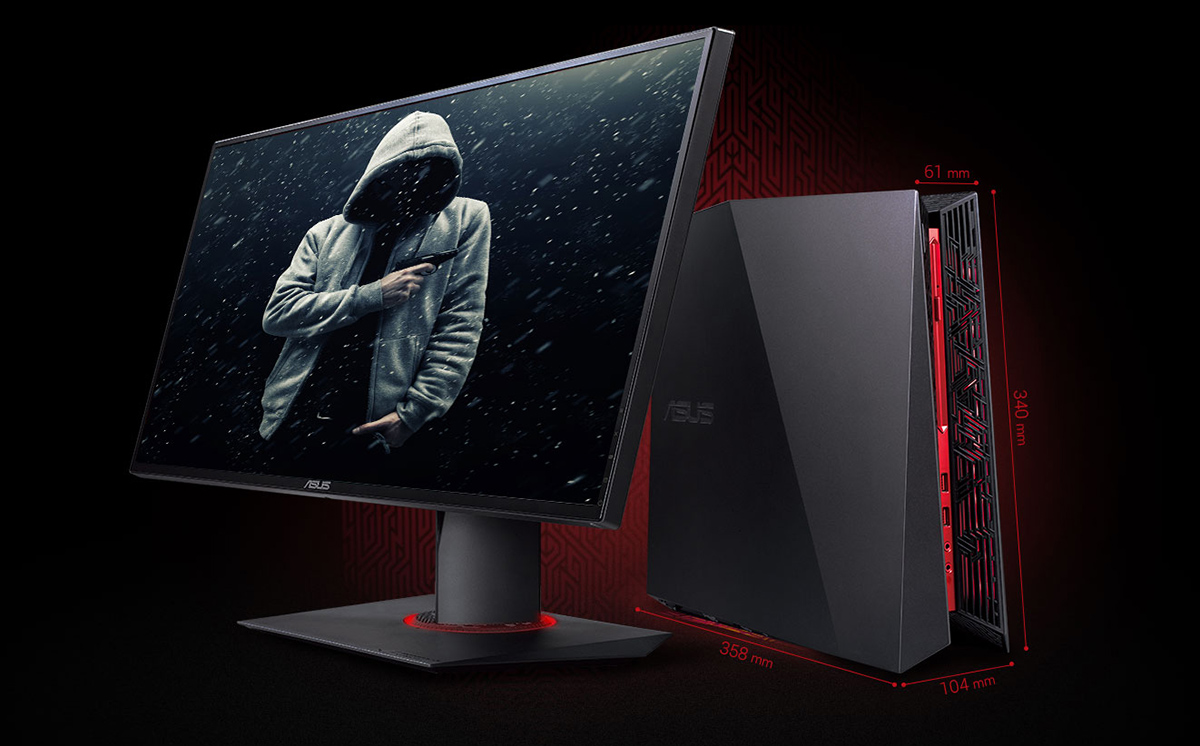 Unrivalled Performance in a 9.5-liter Case
A one-stop gaming and entertainment system, ROG G20 is set to dominate the field of small form factor gaming desktops. Despite its size, it gives you the performance you'd expect from a full-fledged hardcore gaming rig.*
* Monitor not included.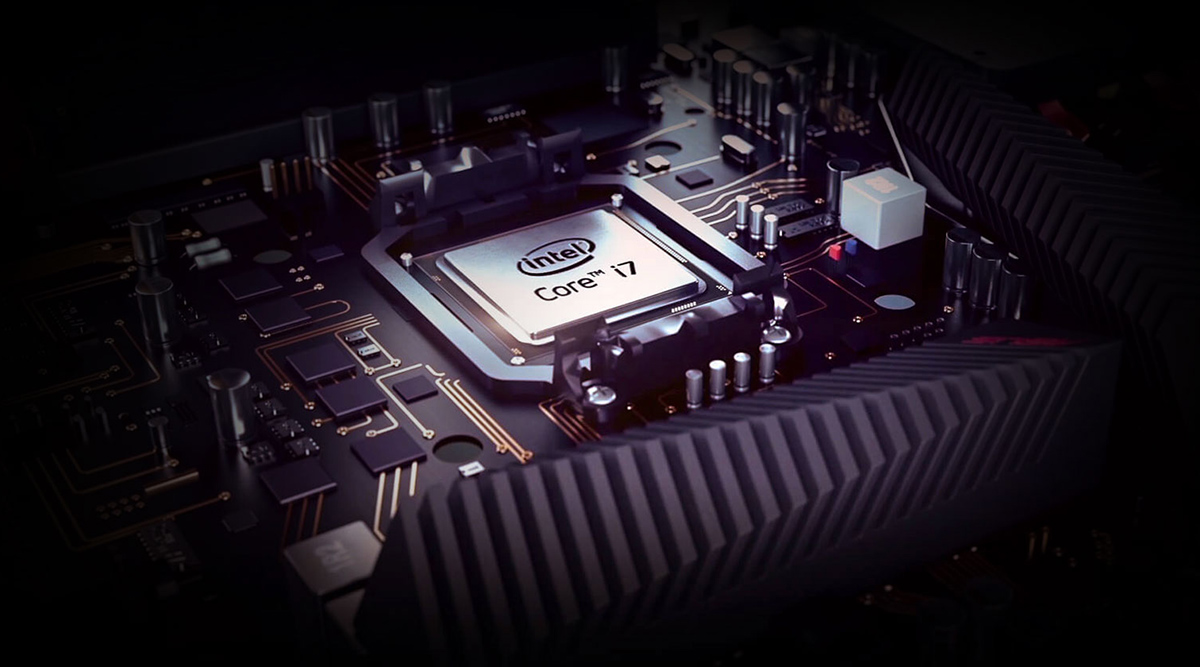 Armed for Victory
7th-Generation Intel Core i7 Processor
Under the hood, ROG G20 can be specced with up to a 7th-generation Intel Core i7 processor to give you unprecedented levels of gaming and multitasking performance. This latest processor gives you a 10% performance boost over the previous generation. G20 gives you the power to take on the most demanding of tasks, allowing you to play games at their highest settings, watch videos in 4K/UHD, and even create awesome websites and 3D models for work.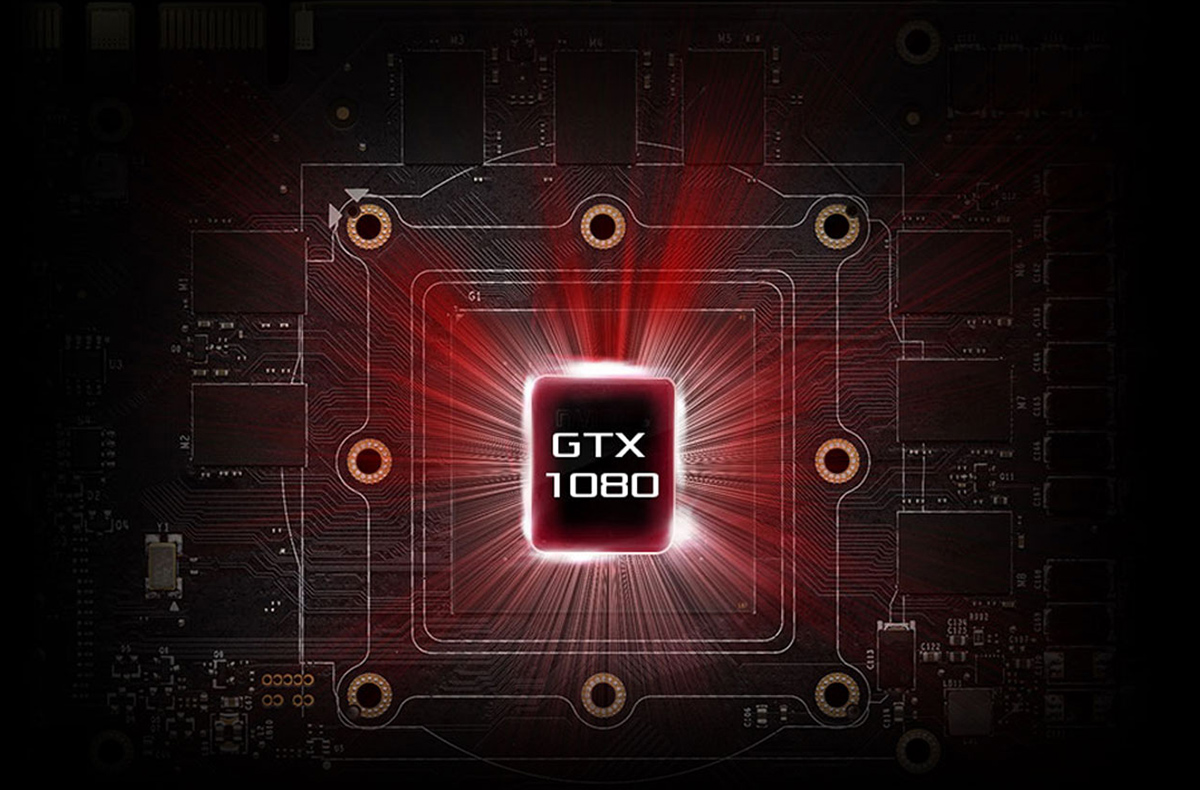 Thrilling Visuals. Leveled up.
Experience the new NVIDIA GeForce® GTX 1080 Graphics
ROG G20 is now armed with NVIDIA's new flagship GeForce GTX 1080 - the most advanced gaming graphics card ever created. Powered by the new NVIDIA Pascal™ architecture, the NVIDIA GeForce® GTX 1080 delivers up to three times the performance of previous-generation graphics cards, superior energy-efficiency, innovative new gaming technologies, and breakthrough VR experiences. With vibrant colors, 4K UHD visuals – your gaming experience will never be the same again!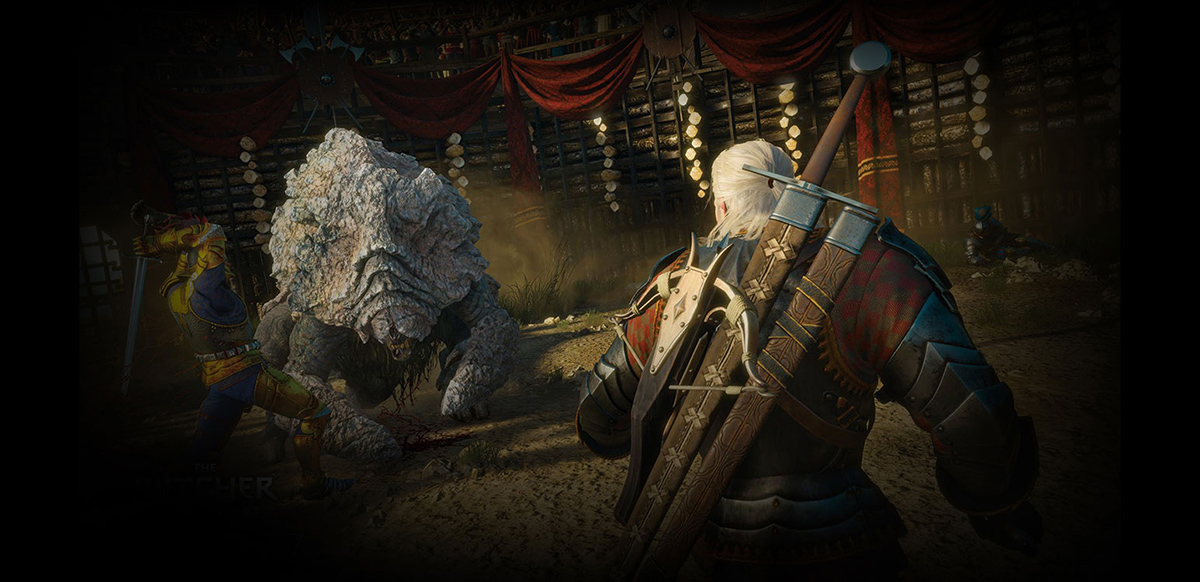 Dominating Performance
ROG G20 comes with NVIDIA GeForce® GTX 1080 graphics for amazing performance and incredible energy efficiency. In product development tests, the GeForce GTX 1080-equipped ROG G20 delivered up to 3X the performance of previous generation graphics cards – so you can enjoy The Witcher 3 at over 70 frames per second at 4K resolution with ultra settings! You can now play games at their highest settings on up to three HD displays. You can even add a fourth display via a HDMI connection – ideal if you want a standalone display for Twitch streams.
* 3DMARK benchmark test on ROG G20CI with an Intel Core i7-7700 processor and 32GB DDR4 RAM. System is running The Witcher 3 at ultra graphics settings.

NVIDIA Experience
ROG G20 gives you an added dimension to gaming with NVIDIA 3D Vision™ Surround for a fully immersive, stereoscopic 3D experience. ROG G20 also supports displays with NVIDIA® G-SYNC™ technology. G-SYNC synchronizes the display's refresh rate with the G20's NVIDIA GTX graphics card for ultra-smooth visuals. This gets rid of lag, minimizes frame-rate stutter, and eliminates visual tearing. It delivers the smoothest and fastest gaming graphics — all without affecting system performance.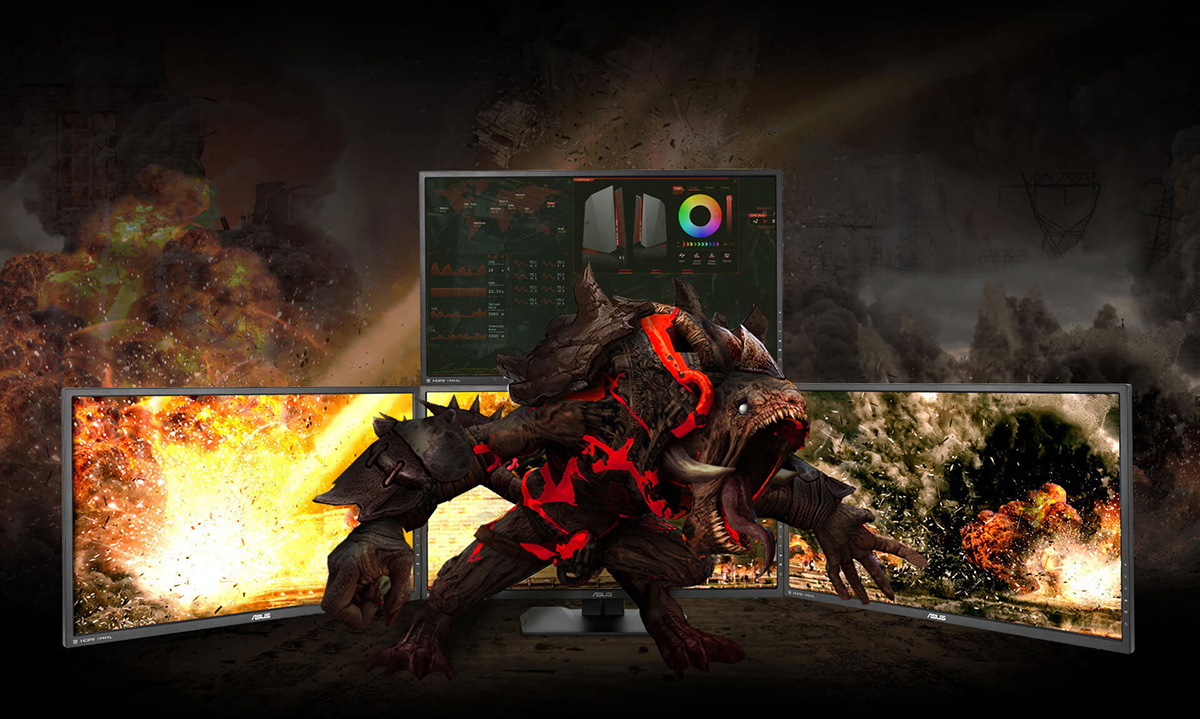 VR-Ready! Steady! Go!
Discover next-gen VR performance, the lowest latency, and plug-and-play compatibility with leading VR headsets driven by NVIDIA VRWorks™ technologies. VR audio, physics and haptics let you hear and feel every moment.
So strap on your VR headset and let ROG G20 and the latest NVIDIA VR technologies immerse you in expansive gaming worlds.

More Gaming, Less Waiting
ROG G20 is available in several configurations and can even be specced with a solid state drive (SSD). The latest M.2 PCIe® Gen 3 x4 SSD gives you data access speeds of up to 2Gbit/s – four times faster than SATA SSDs. This means G20 boots up faster, apps load quicker, and in-game wait times are reduced. DDR4 SDRAM provides speeds of up to 2.1GT/s — twice that of DDR3 1066 — to give you highly stable performance. There's even USB 3.1 Type-C for data speeds of up to 10Gbit/s – twice that of USB 3.0. It is compatible with Type-A ports.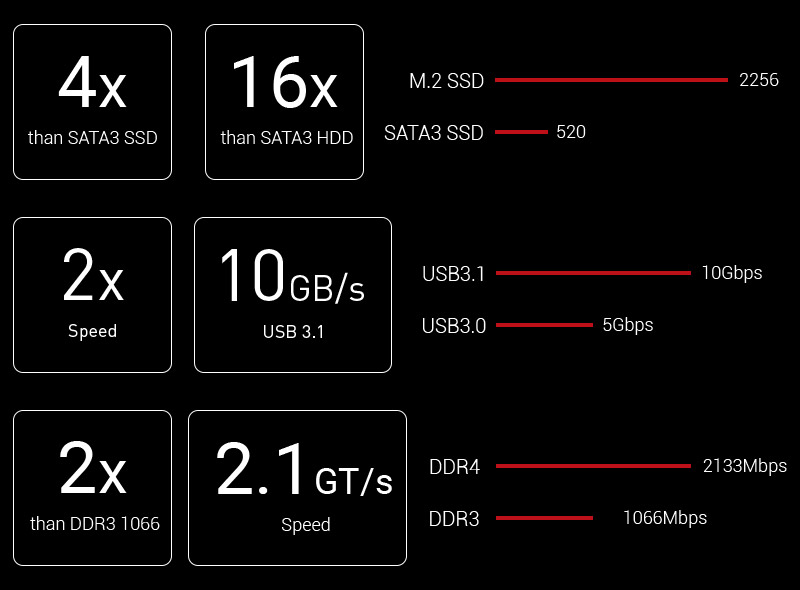 Ultra-Quiet
ROG G20 isn't just powerful; it's extremely quiet as well. You won't be disturbed when you leave G20 on overnight to download games, as it runs whisper-quiet at just 22dB at idle - quieter than a typical library.
Exceptional Heat Management
ROG G20 is designed with no visible side exhaust vents to keep the chassis' neat, clean lines. ROG G20 has an integrated thermal design that takes advantage of natural convection, and has a hidden airflow channel that ensures efficient heat management.
The 1cm-wide airflow channel draws air from the bottom of the chassis; while the GPU fan vents hot air out to the back of the chassis. Two additional internal fans and copper pipes further enhance heat dissipation through fins at the top of the chassis. All these little details help in keeping G20 cool and stable during marathon gaming sessions.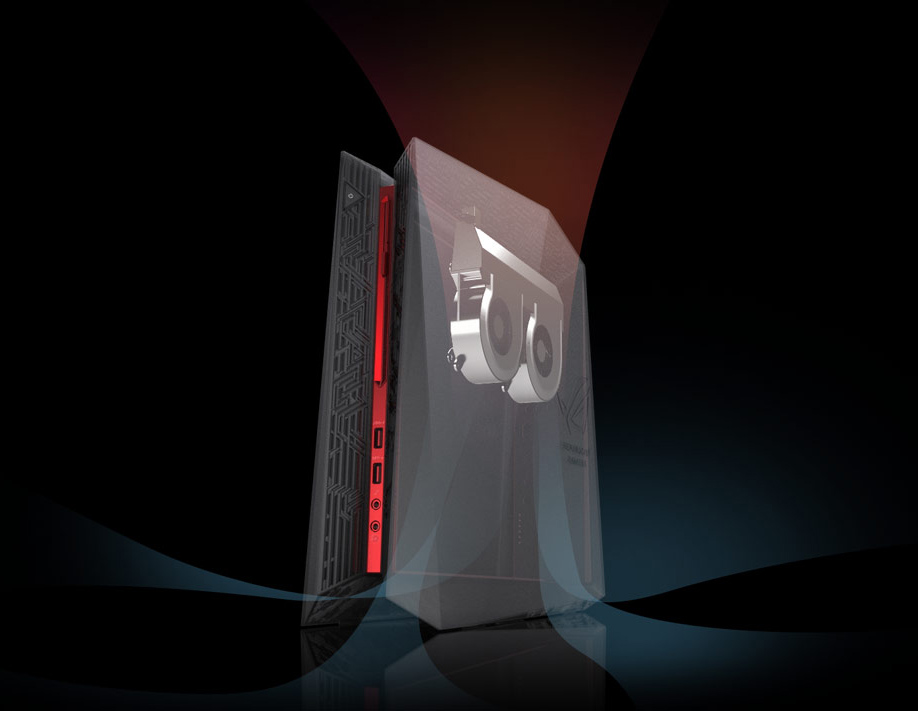 ASUS Aura LED Effects
ROG G20 has a bold design that features a matte-black finish, aggressive lines, and Mayan-inspired markings. The chassis has customizable LED effects across three zones, allowing you to tailor them to reflect the feel of the game you're currently playing.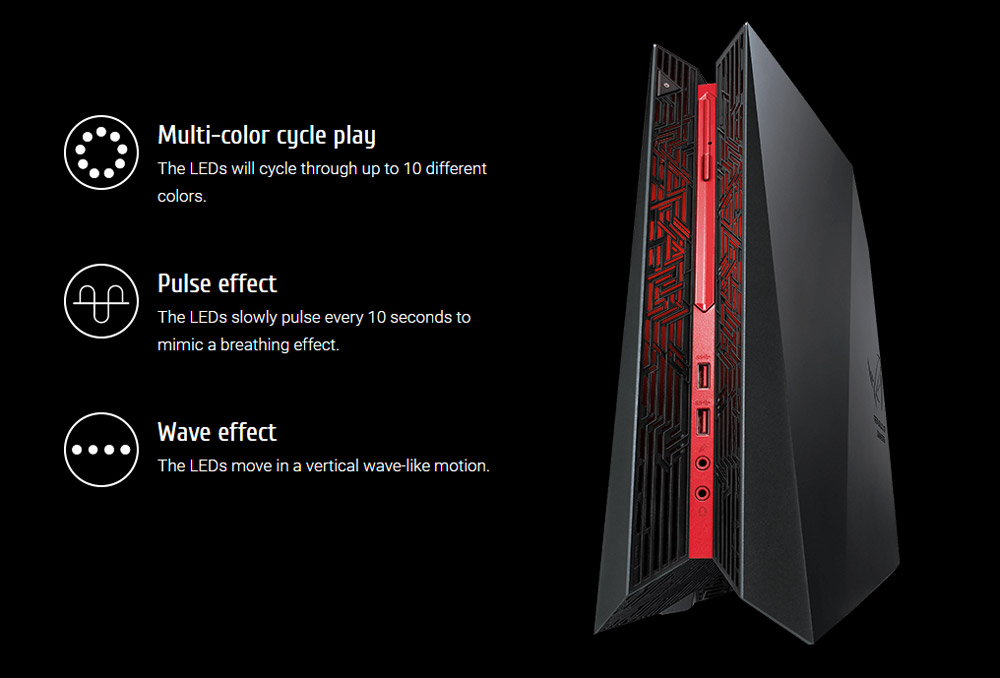 Mind-Blowing Sound
Immersive visuals aside, the best gaming desktops take your gaming experiences further through audio. Sonic Suite employs a unique mix of hardware and audio tuning software to bring you right into the fight. Whether you're using a headset or speakers, you'll be immersed in a world where gunshots ring out, explosions reverberate, and even footsteps become auditory cues on the digital battlefield.
The built-in ESS SABRE HiFi DAC and Amplifier shut out the world and immerse you in incredible sound the moment you put on your headphones. They deliver low frequency sounds at louder volumes, and more detail on the higher end of the spectrum. ROG G20 provides a greater Dynamic Range (DNR), leading to richer and less distorted audio, as well as higher Signal-to-Noise Ratio (SNR) to get rid of annoying noise. You have to hear it to believe it!
Sonic Suite includes Sonic Studio and Sonic Radar to provide immersive gaming audio. Sonic Studio ensures high quality in-game audio, as well as improved streaming and audio recording for perfect voice pickup and noise reduction. Sonic Radar helps gamers detect opponents through an on-screen overlay that shows the relative position of gunshots, footsteps and other in-game sound effects.

With SABRE HiFi, wider amplitudes and audio frequencies greater than 20kHz are reproduced.

ASUS-Exclusive Aegis III
The ASUS-exclusive Aegis III application features a user-friendly interface designed to help you monitor the performance and groups all hardware functions and third-party software onto a main dashboard. It helps you track CPU/memory use, download and upload status, and warns you if the system exceeds temperature and voltage thresholds. You can set temperature and voltage thresholds, and leave the system to maintain them automatically. Choose from different LED lighting effects with easy access to the ASUS Aura control panel. Boost Launcher automatically frees up CPU and RAM resources to ensure smooth gameplay.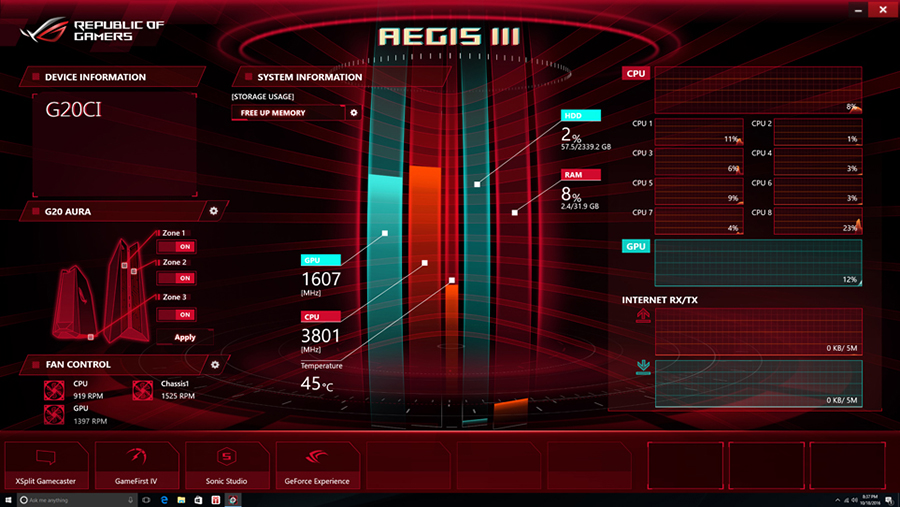 Intel Gigabit Ethernet with GameFirst IV
Less lag for more wins!
ROG GameFirst IV is designed to help with gaming-related processes and applications. Multi-Gate Teaming combines the onboard 3T3R Wi-Fi with Intel Gigabit Ethernet so you get the most out of your online experience. It helps manage multiple gateway network connections, and assigns connections for every application for super-smooth online performance.
The Smart Learning feature takes note of your most frequently used apps and software, and optimizes network bandwidth and selects the best network connections accordingly. When you fire up a game, it sets the network requirements of all other applications to low priority. And once the game session ends, it automatically allocates the bandwidth to other applications that were previously running in the background. The App Identification function takes note of an unidentified app and sends it to the server for verification.
ROG GameFirst IV also has updated network monitoring tools. The Wi-Fi Analyzer helps find all nearby hotspots; Gateway Information displays gateway hierarchy; and Connections allows users to set preferred path assignments for various applications.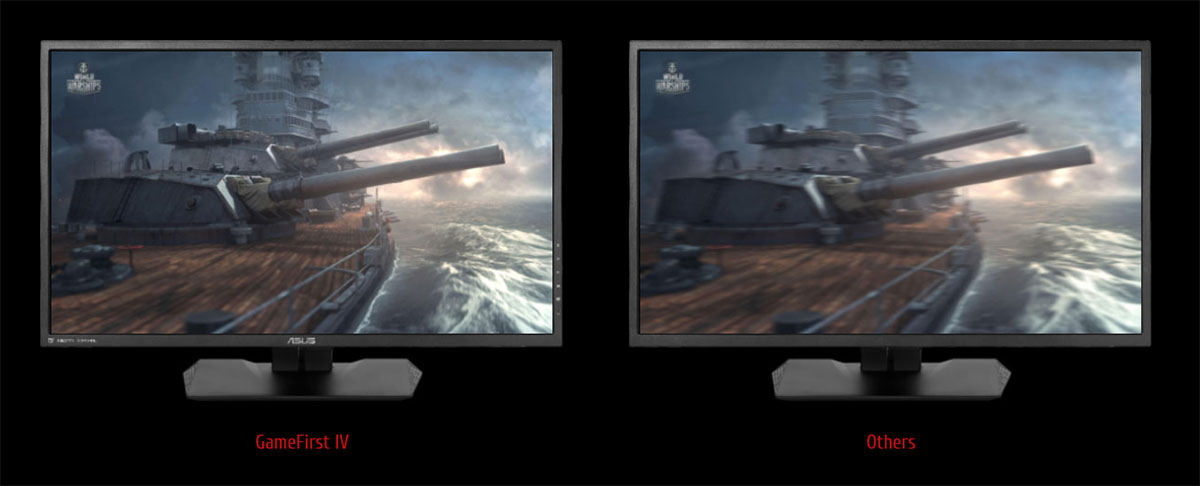 ASUS Desktops – Most Recommended Windows Desktop Brand
Less lag for more wins!
Innovation, design and reliability are at the heart of all ASUS computers. ASUS has won a PCMag.com Readers' Choice Award for its desktops four years running, leading the competition in both overall satisfaction and likelihood to be recommended. This proves that ASUS is better at delivering what customers want than rival Windows desktop PC companies. ASUS also had the lowest percentage of units needing repairs within the last 12 months, further proof of its trusted quality and reliability.
In 2014, ROG G20 won the Computex Best Choice Golden Award and the Best Choice of the Year Award – the latter being the exhibition's top prize. ROG G20 has also received: 2014 Good Design Award, CES 2015 Best Innovation Honoree, 2015 iF Design Award, and 2015 Taiwan Excellence Gold Award.

Robust Connectivity
ROG G20 gaming desktop PC comes with an array of connectivity options. G20 features a brand new, built-in ESS SABRE HiFi DAC and Amplifier accessible through the front headphone jack. It also provides you with a new S/PDIF-out port on the rear for all of your professional audio needs.
It has a total of eight USB ports front and rear so there's always a port available for all your gaming peripherals. It even has two USB 3.1 ports. You can hook your ROG G20 up to an HDTV through an HDMI connection for large screen entertainment and gaming too.
Super-fast and stable 802.11ac Wi-Fi provides strong signal delivery and three times the speed of previous Wi-Fi standards so you can play online games or stream videos smoothly. Built-in Bluetooth 4.0 conveniently connects ROG G20 to any Bluetooth device for a complete home PC experience.
Processor:
Intel Core i7-7700 Quad Core (3.6GHz - 4.2GHz )
Graphic:
NVIDIA GeForce GTX1070 8GB GDDDR5
Virtual Reality:
VR-Ready
Storage:
512GB M.2 PCIex4 SSD
Optical:
Slimtray Super Multi DVD, DVD±RW (±R DL) / DVD-RAM
PCI Expansion:
1 x PCI-e x 16
Network:
1 x 10/100/1000 Mbps Gigabit Ethernet (RJ45)
Microphone Input:
1 x 1/8" (3.5 mm)
Headphone Output:
1 x 1/8" (3.5 mm)
DVI:
1 x Dual-Link DVI (Rear)
Display Port:
2 x Display Port 1.4 (Rear)
USB 3.1 ( Type-A ):
6 x USB 3.1 Gen1 (2 Front, 4 Rear)
USB 3.1 ( Type-A ):
2 x USB 3.1 Gen2 (Rear)
USB 3.1 ( Type-C ):
1 x USB 3.1 Gen2(Rear)
Accessories:
1 x Backlit Keyboard (USB), 1 x Wired Mouse (USB) 1 x Power Cord, 1x Warranty Card, 1x User Manual
Dimension (L" x W" x H"):
14.1" x 4.1" x 13.4"
1-Year Manufacturer Warranty