THINK SMALL. PLAY BIG.
The world's smallest true gaming PC. The Trident series are packed with high performance gaming components in a compact case. Boosting incredible power and performance levels that will fit all gamers' demands, the MSI Trident series redefine the size of PC gaming.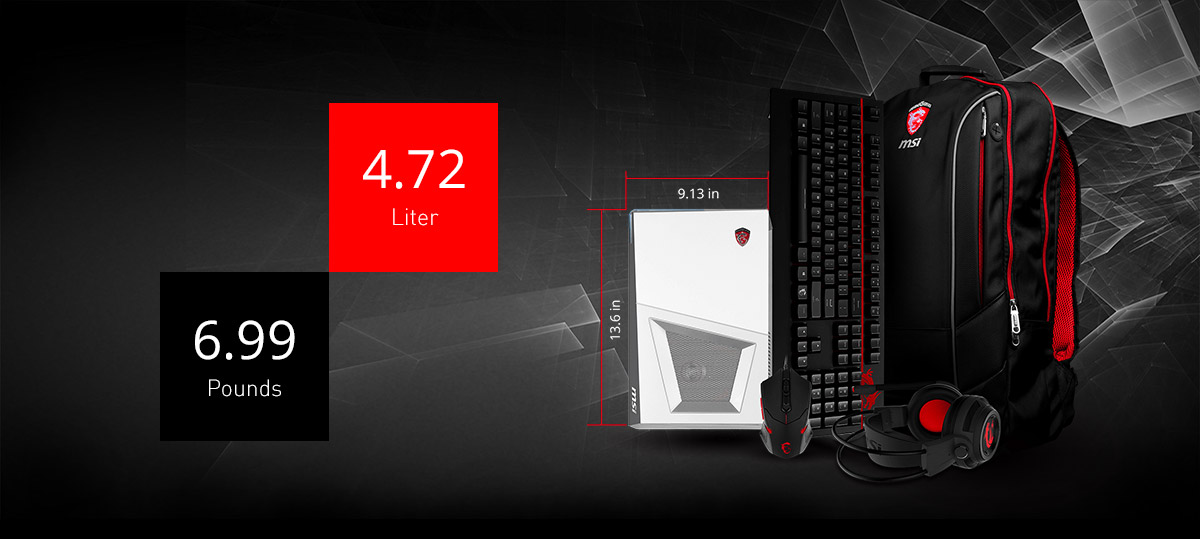 COMPACT AND LIGHTWEIGHT TRUE GAMING PC
Going to a LAN-party, a friend's place or simply feel like bringing your Gaming Desktop anywhere you go? Trident 3 only weighs 6.99 lbs and fits in most conventional backpacks. With the shape and size of a console, and the DNA and hardware of a true gaming powerhouse, the Trident rocks the complete package for those who want to game unlimited. Bring true gaming desktop performance with you everywhere.

BUILT WITH REAL GAMING COMPONENTS
The components within an MSI Gaming Desktop are selected and tweaked to get you the best performance and experience while gaming. This is not just a PC. It's a True Gaming PC.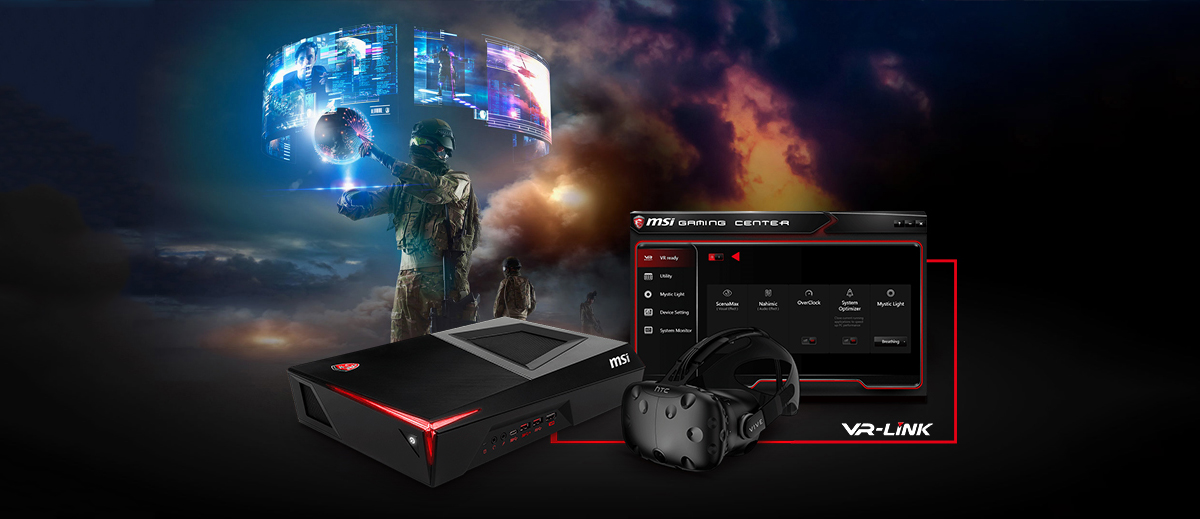 SMALLEST VR READY PC
MSI Trident 3 is a real Gaming PC for next generation gaming. It is equipped with VR-Link and a 'One-click-to-VR' button which make Trident 3 world's smallest VR ready Gaming Desktop to date.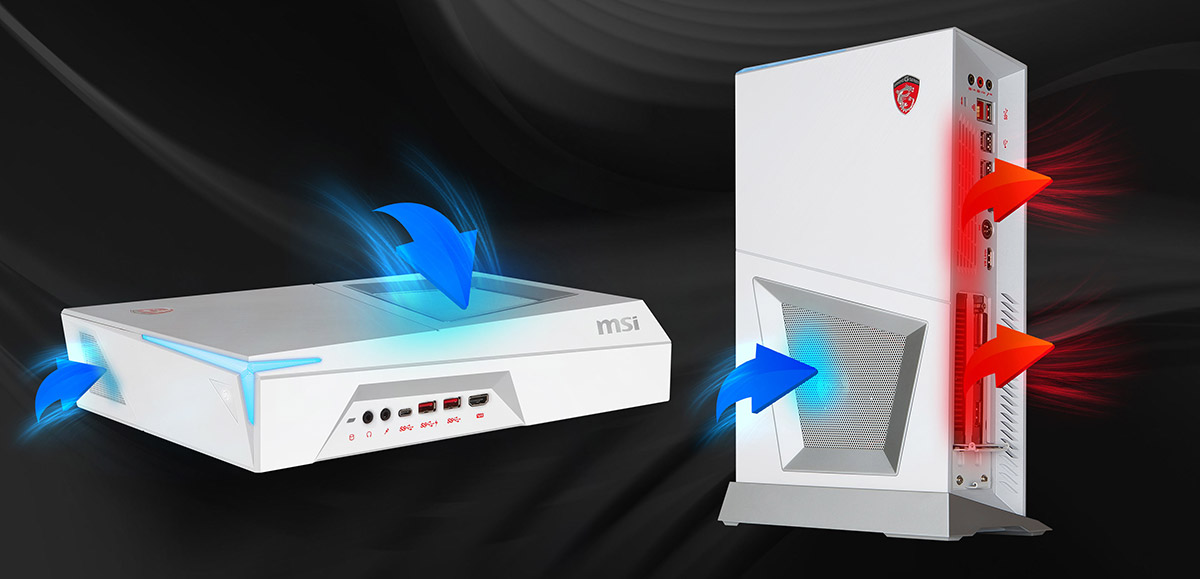 SILENT STORM COOLING 2
Cooling is essential for Gaming systems. MSI Trident 3 features MSI's special and exclusive cooling technology called Silent Storm Cooling 2. Separating key components in different chambers with optimized airflow, the systems cooling is completely fine-tuned and ready for many hours of gaming without breaking a sweat.
STAY COOL, STAY QUIET
Silent Storm Cooling 2 keeps the system cool and really quiet. We use a special designed cooler for the processor. It has special fan blades to increase the airflow, but decrease the sound. While the Silent Storm Cooling 2 system make sure you can always hear your enemy's coming.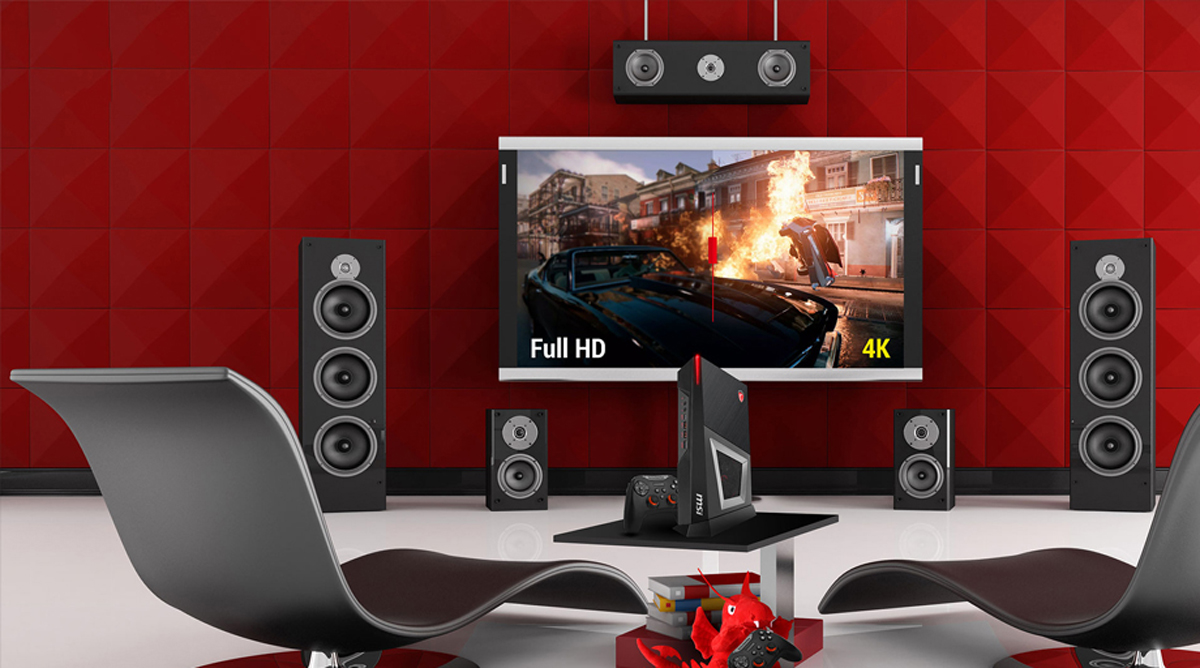 ULTRA 4K HD
MSI Trident 3 brings ultimately flawless Ultra 4K resolution. Get ready to get sharper images, movies and gameplay.

MYSTIC LIGHT
Customize your Trident with Mystic Light. Make your build look on fire or cold as ice. You are in control. You can select any of the colors from the palette to match your systems' design. Or use breathe, gradient or Gaming & Music modes.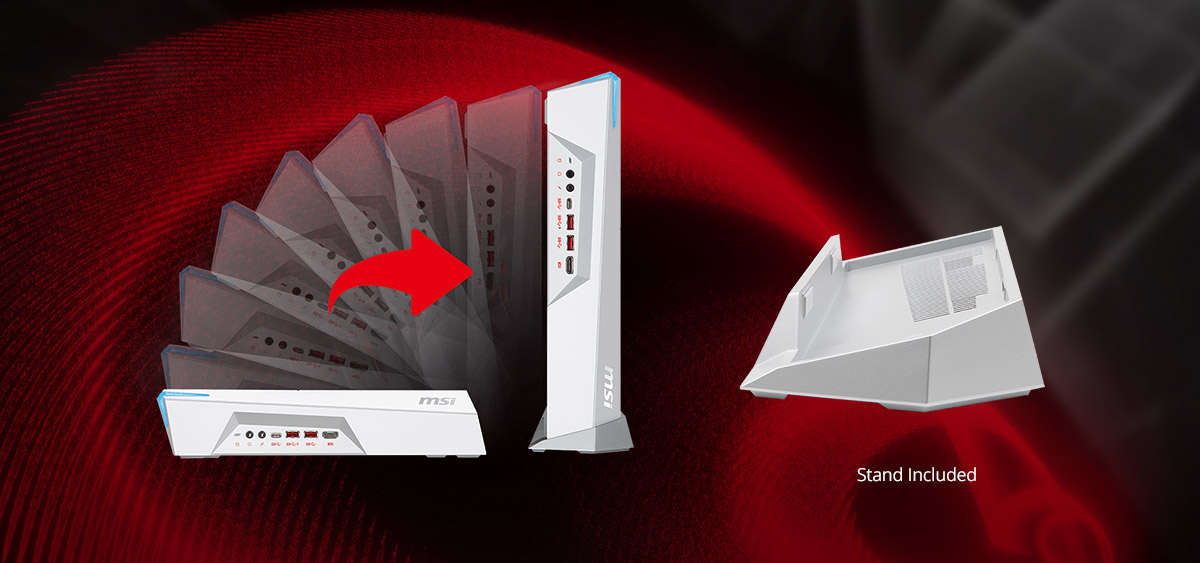 WHICH STANCE WILL YOU CHOOSE?
You choose how to use your Trident 3. Including a special stand to place your Trident 3 vertical. In this way the MSI Trident 3 will always fit to your gaming needs.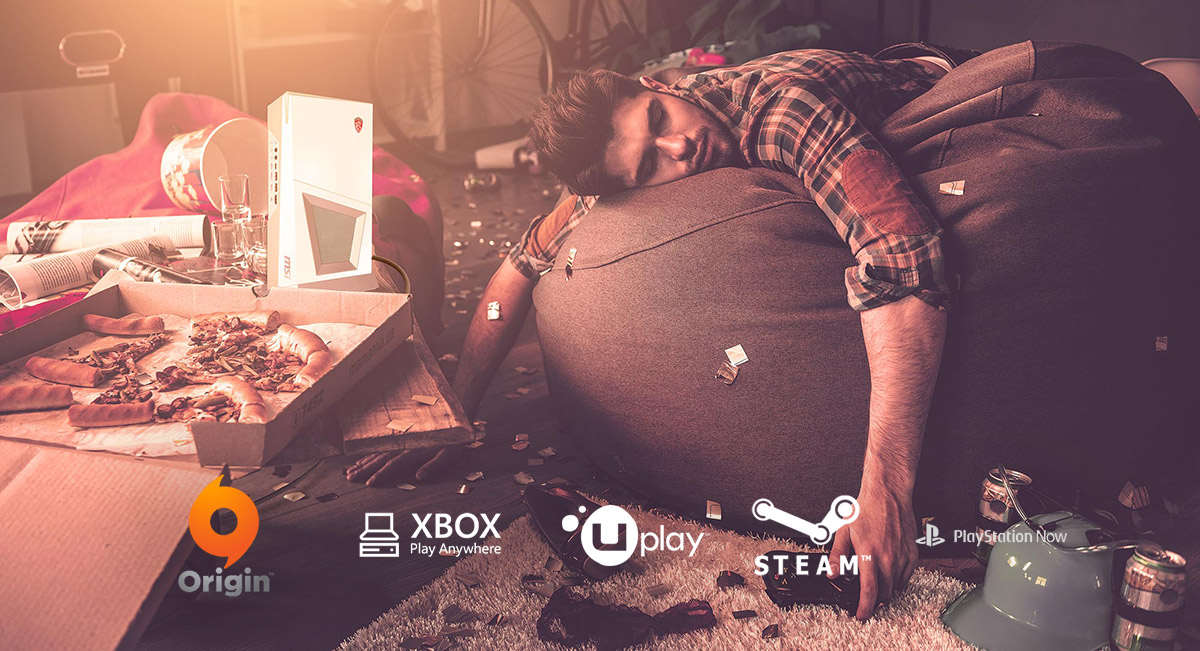 NEVER. STOP. GAMING.
Do you love games? So do we! The best platform for playing games is of course a PC. It can give you the biggest library of games to play, from classic games to the latest blockbuster titles. MSI Gaming Desktops are backwards compatible and can now support console games with programs such as Xbox Play Anywhere and Playstation Now. You can even choose between playing with a keyboard and mouse or a controller. It's a good time to be a PC Gamer.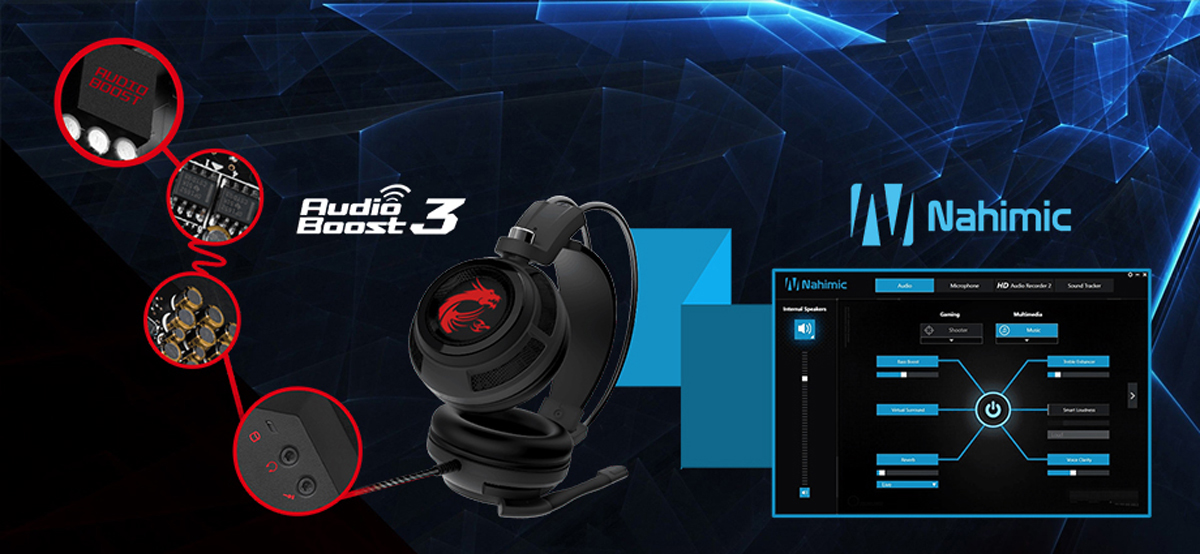 THE BEST AUDIO THROUGH HARDWARE AND SOFTWARE
To deliver the crispest sound signal to gamers' ears, MSI Trident 3 uses special hardware and software amplifiers to get the best audio experience for gamers, especially using a gaming headset.
SOUND TRACKER
With Nahimic 2.0 we have a built in sound radar. It shows you where the sounds comes from so you have an advantage on your enemies.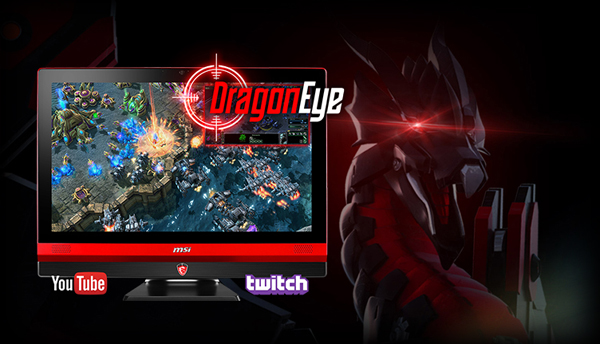 A DIFFERENT VIEW ON GAMING
MSI Dragon Eye allows you to watch a YouTube video or Twitch Stream while playing a game simultaneously. Simply add a link or stream to the Dragon Eye application and select the size, position, volume and transparency and start gaming. With a few hotkeys you can start/pause your video or set the volume.

MSI GAMING CENTER
MSI Gaming Desktops come with free Gaming Center software. Unlike the bloatware that you'll find on other so called 'gaming' PCs, MSI's Gaming Center actually helps you to keep track of your system's in-game performance and to optimize your gaming experience. Gaming Center automatically detects different gaming profiles and settings for dozens of popular games and you can customize your own preferred settings as well.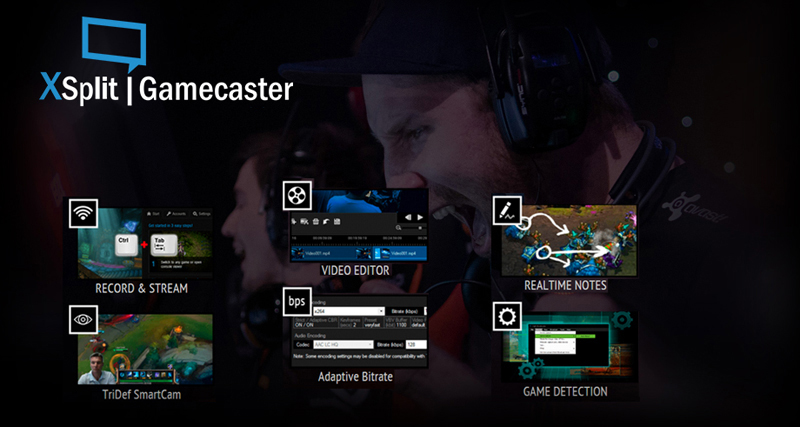 YOUR GAME. YOUR STREAM. YOUR FAME
XSplit Gamecaster & Broadcaster lets you easily record your gaming moments and broadcast your live gameplay sessions to Twitch, YouTube, UStream and more. Now also broadcast yourself vividly with the renewed chroma key and adaptive bitrate. It's simple, easy to use and ideal for sharing your gameplay with friends, family or the world - or for capturing those perfect gaming moments, just for the heck of it.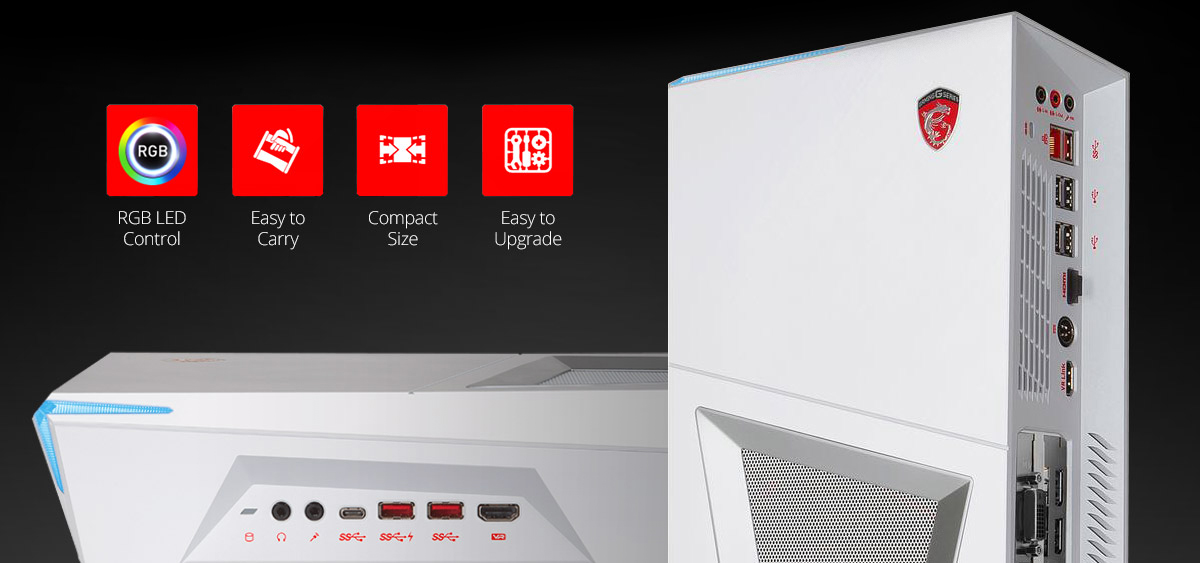 CONNECTING ALL YOUR GAMING DEVICES
Housing all this high-powered hardware, MSI Gaming Desktops have a characteristic, breathtaking case design that is incredibly easy to use. Get the real gaming look! We built in more than enough ports to let you connect all your game devices. Plug in your portable storage, gaming headset or keyboard and get into the action in an instant! Moreover, the two high speed USB ports on the front of Trident are ideal to connect your game controllers to as well.
Processor:
Intel Core i7-7700 3.6 GHz - 4.2 GHz
Graphic:
NVIDIA GeForce GTX1070 8GB GDDR5
Memory:
16GB DDR4 2133 MHz
Wireless:
Intel Wireless-AC 3165
Audio:
7.1 Channel HD Audio with Nahimic audio enhancer
Mic-in/ Headphone-out:
1 x 1/8" (3.5 mm) Headphone Output, 1 x 1/8" (3.5 mm) Microphone Input, 3 x 1/8" (3.5 mm) Line-Out
Display Port:
2 x Display Ports, 1 DVI-D
USB 2.0 (Type-A):
4 x USB 2.0
USB 3.0 (Type-C):
1 x USB 3.0
USB 3.1 (Type-A):
3 x USB 3.1
Accessories:
Gaming Mouse + Gaming Keyboard
Dimensions:
13.93" x 3.84" x 9.90"
1 Year Limited Warranty