(For Commercial/ Education Only)
Call Us or Request a Quote for Availability!
ARCore is Google's platform for building augmented reality experiences. Using different APIs, ARCore enables device to sense its environment, understand the world and interact with information. Some of the APIs are available across Android to enable shared AR experiences. ARCore uses three key capabilities to integrate virtual content with the real world as seen through the device's camera:
Motion tracking
allows the device to understand and track its position relative to the world.

Environmental understanding
allows the device to detect the size and location of all type of surfaces: horizontal, vertical and angled surfaces like the ground, a coffee table or walls.
Light estimation
allows the device to estimate the environment's current lighting conditions.
There are numerous educational and fun Apps featuring Google ARCore available now on Play Store. Many more are coming in the near future.
GOOGLE EXPEDITIONS APP
Google Expeditions is a virtual reality teaching tool that lets you lead or join immersive virtual trips all over the world — get up close with historical landmarks, dive underwater with sharks, even visit outer space!Built for the classroom and small group use, Google Expeditions allows a teacher acting as a "guide" to lead classroom-sized groups of "explorers" through collections of 360° and 3D images while pointing out interesting sights along the way.
Features:
• Guide classroom-sized groups of locally connected users from your phone or tablet.
• Explore along with a guide in immersive VR by putting your Android phone into a Google viewer.
• Connect devices over the same WiFi network - if the Guide has downloaded some Expeditions, there is no internet connectivity required to run the Expedition!
• Choose from a growing list of over 200 Expeditions - each one is a curated set of VR imagery along with integrated descriptions, talking points and questions.
List of Available Expeditions (click link to view)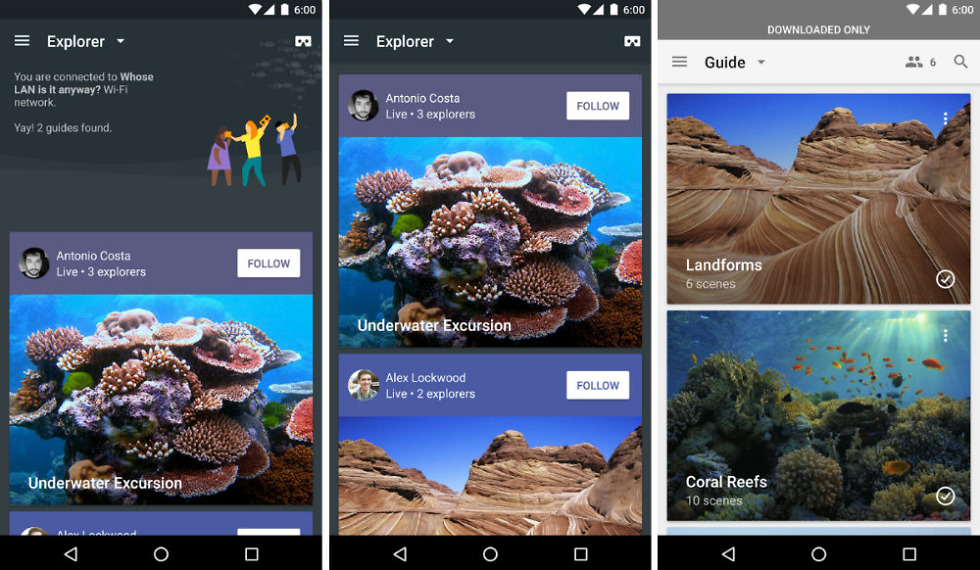 VR TOURS
INTRODUCING GOOGLE EXPEDITIONS VIRTUAL REALITY KITS
Enhance your classrooms with Virtual Reality and create a more engaging experience for your students without breaking your budget. With the continued growth of Google's Expeditions VR Kit, a free app for schools to take their students on field trips around the world, the pressure is on to provide the platform and tools to make it possible. We have the solution you need.
Cost-Effective:
Virtual Reality used to be out of reach for schools with limited budgets. Not anymore!
Ready Out of the Box:
No set up or cabling required. All you need is the VR kit and the free app Google Expeditions.
Heading:
Package Contains:
Networking:
1 x Access Point
Tablet:
1 x Chromebook Tab
VR Device:
10 x AR/VR Compatible Android Device
Storage:
1 x Storage Case + Cube Case Mobility Kit
Viewers:
10 x VR Headset with Built-in Headphones
Charging:
1 x 10-Port USB Charging Hub
Content Creation:
1 x Camera
Selfie Stick:
10 x Selfie Stick with Bluetooth