Destiny 2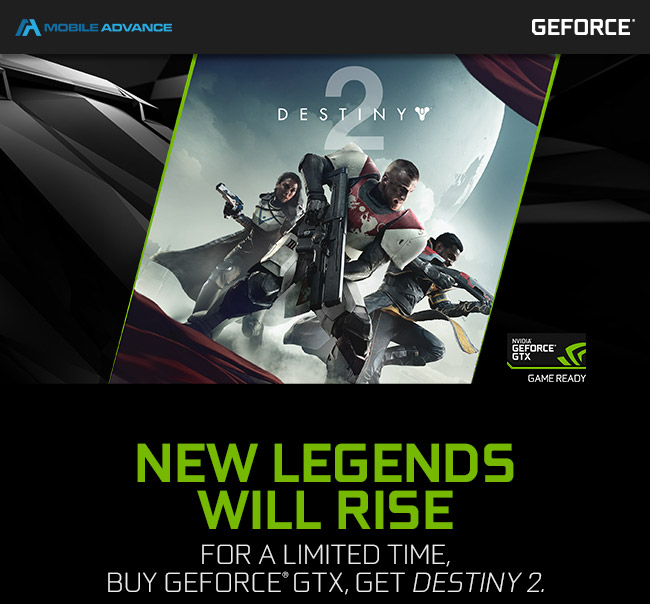 Get Game Ready with GeForce GTX 10 Series and experience Destiny 2 on PC. For a limited time, buy a select GeForce GTX 1080 Ti or GeForce GTX 1080 graphics card, system, or laptop, and get Destiny 2 at PC Launch!

Humanity's last safe city has fallen to an overwhelming invasion force, led by Ghaul, the imposing commander of the brutal Red Legion. He has stripped the city's Guardians of their power, and forced the survivors to flee. You will venture to mysterious, unexplored worlds of our solar system to discover an arsenal of weapons and devastating new combat abilities. To defeat the Red Legion and confront Ghaul, you must reunite humanity's scattered heroes, stand together, and fight back to reclaim our home.


WATCH THE EXCLUSIVE 4K PC GAMEPLAY TRAILER

GeForce GTX 10 Series GPUs brings the beautiful world of Destiny 2 to life in stunning 4K. Experience incredibly smooth, tear-free gameplay with NVIDIA G-SYNC™ and share your greatest gameplay moments with NVIDIA ShadowPlay™ using GeForce Experience™. Promotion date 10/17/17 until 01/05/18.
REDEMPTION INSTRUCTIONS | FAQ | MORE INFO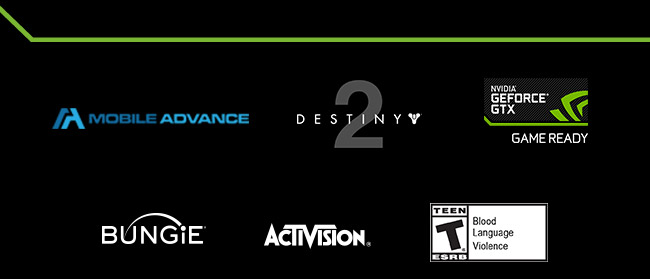 © 2017 NVIDIA Corporation, NVIDIA, the NVIDIA logo, and GeForce are trademarks or registered trademarks of NVIDIA Corporation. All rights reserved. Qualifying graphics cards, systems, or laptops: GeForce GTX 1080 Ti, GeForce GTX 1080, GeForce GTX 1080 Ti systems, GeForce GTX 1080 systems, and GeForce GTX 1080 laptops. Internet connection required. Destiny 2 PC game codes may only be redeemed until January 13, 2018.
Minimum 68 GB available hard drive storage space required as of September 2017. Storage requirements subject to increase. After September 2017, see www.destinythegame.com/size-requirements for current requirements. May require additional storage for set-up, features and updates, including to download mandatory in-game updates to continue playing. Users responsible for fees for broadband internet, which is required. Additional charges may apply for online content and features. Using the software constitutes acceptance of the Destiny Software License Agreement available at http://support.activision.com/license and the Terms of Use and Privacy Policy available at www.bungie.net/eula. Activision may modify or discontinue online services without notice at any time.
© 2017 Bungie, Inc. All rights reserved. Destiny, the Destiny Logo, Bungie, and the Bungie Logo are among the trademarks of Bungie, Inc. Published and distributed by Activision. Activision is a registered trademark of Activision Publishing, Inc.