At-A-Glance
- Liquid Cooled overclocked Intel Core i7-6700K Processor 4.2 GHz (4.6 GHz) with GeForce GTX 1080 SLI graphics cards
- 64GB RAM/ 1TB HDD + 2 512GB NVMe SSds with DL DVD±RW/CD-RW. Windows 10 operating system
- Customizable lighting in multiple zones including the fan intake
- ROG band lets you access additional features using NFC such as overclocking, customized lighting and shadow drive
- Mechanical keyboard and mouse included for full gaming experience right out of the box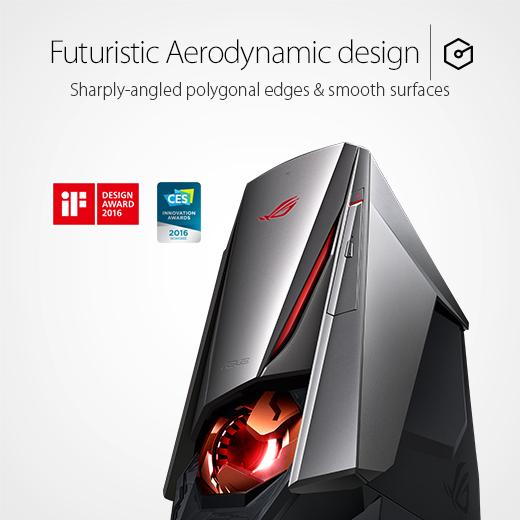 Futuristic, Aerodynamic-Inspired Design
One look at ROG GT51 and you know it means business right from the start. Its bold and aggressive aerodynamic-inspired design comprises of sharply-angled polygonal edges and smooth surfaces, with your eyes being slowly drawn towards its centerpiece – the turbine-like air intake.
Customizable-Million-Colorled Effects
Dynamic light effects illuminate ROG GT51's case, including the iconic ROG logo and twin side-light strips. You can even customize the RGB LEDs on the air intake with any of the 8 million colors! And when you overclock ROG GT51, the dramatic OC lighting mode is activated.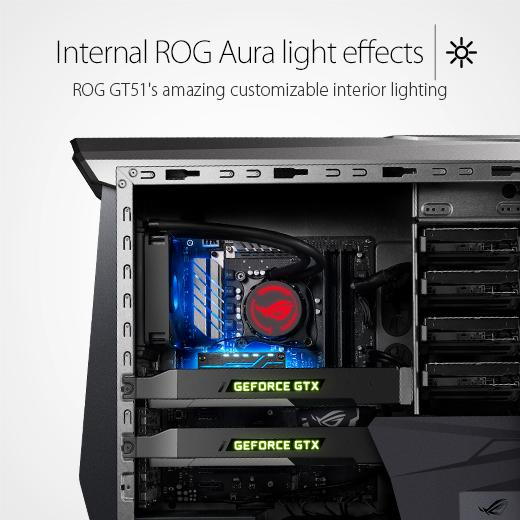 Internal ROG Aura Light Effects
ROG GT51's amazing lighting isn't just confined to the outside — take a peek inside the case and watch the ROG Aura motherboard LEDs in action! You can even tailor these to match the feel of the game you're playing.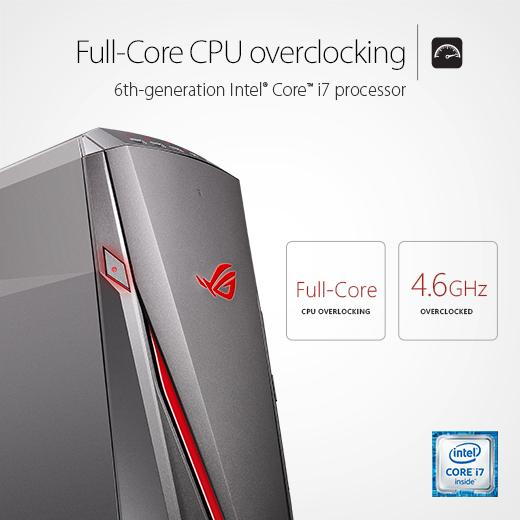 Full-Core CPU Overclocking
ROG GT51 is armed for victory, with a 6th-generation Intel Core i7 processor for unprecedented gaming performance. ASUS selects the CPUs, ages them for 40 hours and fine-tunes performance to make them 14% faster than anything on the market. Combined with Turbo Gear this gives you one-click full-core CPU overclocking to 4.6GHz without having to reboot! The Hydro Overclocking System on the CPU ensures rock-solid stability during overclocking.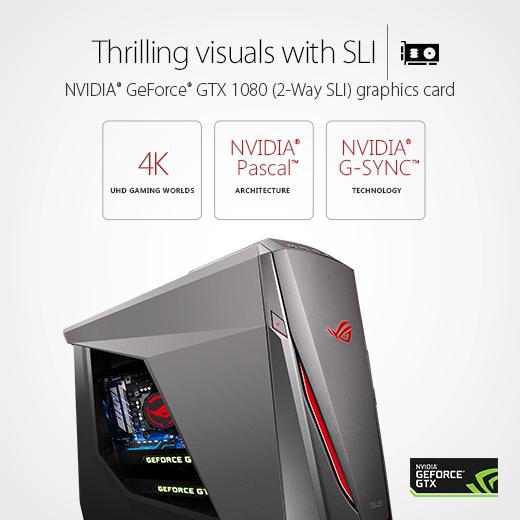 Thrilling Visuals, Now Even Better With SLI
The flagship NVIDIA GeForce GTX 1080 graphics card is the most advanced gaming graphics card ever created. Designed around the new NVIDIA Pascal architecture, GeForce GTX 1080 delivers up to three times the performance of previous-generation graphics cards, superior energy-efficiency, innovative gaming technologies and breakthrough VR experiences.
The latest ROG GT51 supports up to NVIDIA GeForce GTX 1080 (2-Way SLI) graphics to create stunningly-beautiful and stutter-free 4K UHD gaming worlds. On top of that, NVIDIA G-SYNC technology minimizes lag and frame rate stutter, and eliminates visual tearing to give you the smoothest and fastest gaming graphics — all without affecting system performance.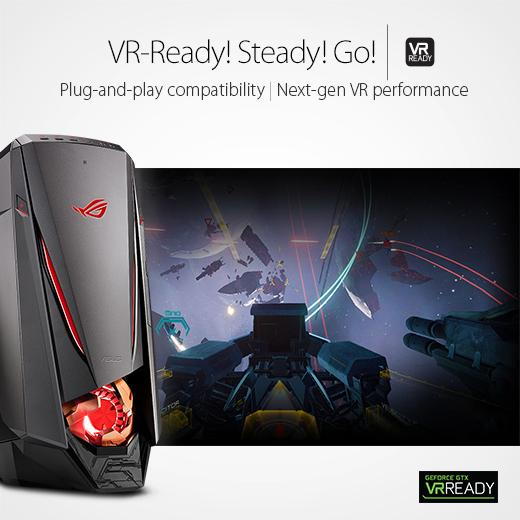 VR-Ready! Steady! Go!
Discover next-gen VR performance, the lowest latency, and plug-and-play compatibility with leading VR headsets driven by NVIDIA VRWorks technologies. VR audio, physics and haptics let you hear and feel every moment.
So strap on your VR headset and let ROG GT51 and the latest NVIDIA VR technologies immerse you in expansive gaming worlds.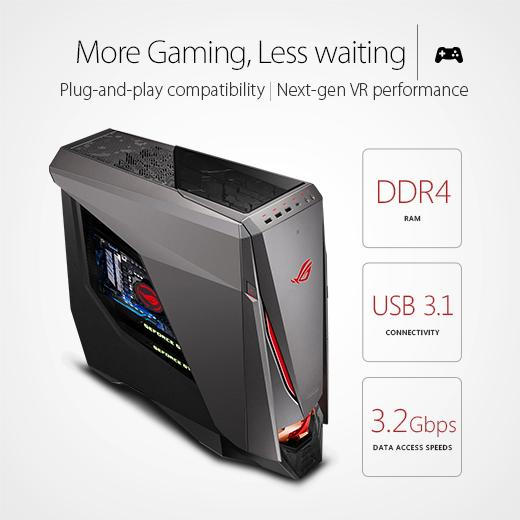 More Gaming, Less Waiting
Next-gen innovations such as a NVMe PCI Express SSD, DDR4 RAM, and USB 3.1 speed everything up. The latest NVMe PCIe Raid 0 SSD gives you data access speeds of up to 3.2Gbps – six times faster than SATA SSDs. And DDR4 RAM and USB 3.1 provide blazing-fast memory and I/O performance.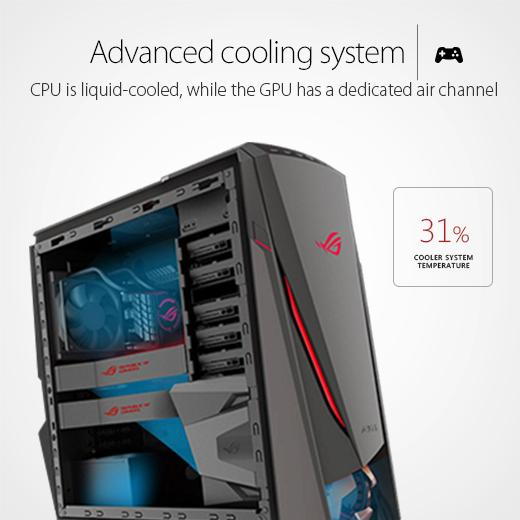 Advanced Cooling System
ROG GT51 boasts a multi-zone thermal solution to ensure efficient heat management by decreasing system temperature up to 31%, even under the heavy load of marathon gaming sessions. The CPU is liquid-cooled, while the GPU has a dedicated air channel. The power supply unit, found in the bottom corner of the chassis, features its own isolated airflow design.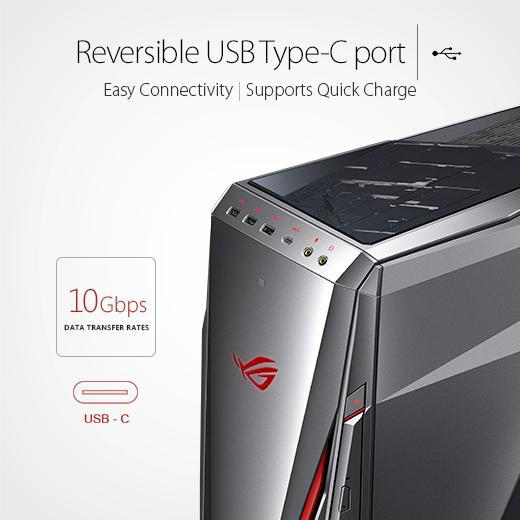 Reversible USB Type-C Port
The USB 3.1 Type-C connector at the front is reversible, so it makes connecting devices easy, with no chance of damaging the cable or port by plugging in devices the 'wrong' way. As well as data transfer rates up 10Gbps, it also supports Quick Charge to give you the convenience of fast device charging.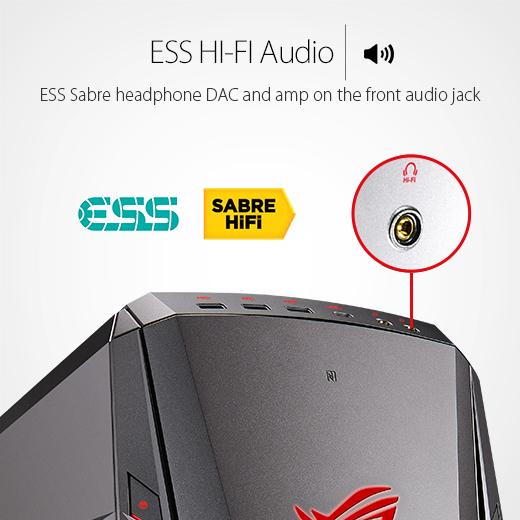 The Power and the Glory
ROG GT51 is no ordinary gaming machine. It's engineered with ROG gaming DNA to give you mind-blowing gaming experiences you won't find elsewhere. Pump up the Intel Core i7-6700K CPU to a full-core overclocked 4.6GHz — without rebooting! — while you enjoy the eye-popping 8-million-color dynamic 4-zone LED lighting effects. ROG GT51: be prepared for awesome!
ESS HI-FI Audio:
The ESS Sabre headphone DAC and amp on the front audio jack is a ROG-exclusive first for desktops! With a gold connector to ensure Hi-Fi-grade audio, ROG GT51 gives you truly incredible sound quality. High dynamic range (DNR) and low noise levels mean you get richer and less-distorted audio, with full-range frequency response.
Availability:
Ship in 24-48 Hours
Processor Type:
Intel Core i7-6700K
Graphic:
NVIDIA GeForce GTX1080 SLI
Audio:
ESS HI-FI Sabre Headphone DAC and Amp
Front I/O Ports:
1 x Headphone, 1 x Microphone, 2 x USB 2.0 1
Back I/O Ports:
8x 3.0 USB / 2x 2.0 USB / Wireless Type 802. 11 A/c
Power Supply:
Preinstalled 700W
Accessories:
1x Mechanical Keyboard (USB), 1x Mouse (USB), Wired, USB 2.0, 1x Power Cord, 1x Warranty Card, 1x User Manual
Software:
ASUS WebStorage, Office Trial
Certificates:
BSMI/CB/CE/FCC/UL/Energy Star/C-Tick/VCCI
Item Dimension (L" x W" x H"):
23 x 10.3 x 23.6
Warranty:
1 Year Warranty
1 Year Manufacturer Warranty