FULL DESKTOP POWER. CONSOLE SIZE.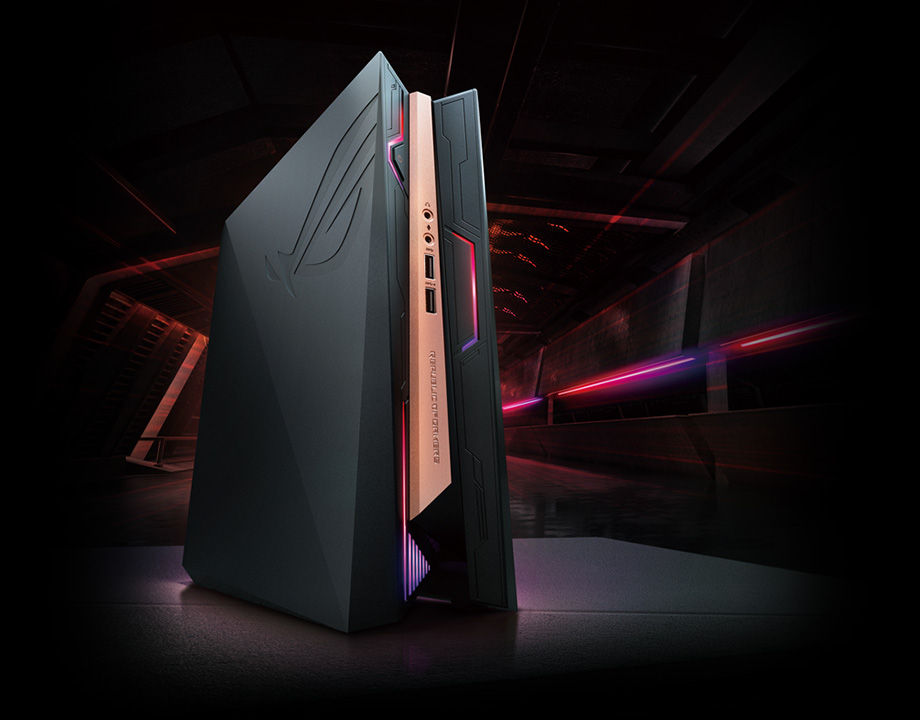 Underestimate ROG GR8 II at your own peril! Despite its compact dimensions, this 4-liter gaming PC delivers performance levels that rival many established gaming desktops. The ROG GR8 II is the world's smallest VR gaming powerhouse, and is armed with a custom ASUS GeForce® GTX 1060 graphics card for fast and smooth gameplay, and highly detailed in-game visuals. Its VR-friendly design features two HDMI ports to hook up your VR headset and display simultaneously, so you can enter virtual worlds in an instant. The GR8 II is powered by the latest desktop-grade 7th Generation Intel® Core™ i7 quad-core processor with 32GB of dual-channel DDR4 memory — more than enough processing power for today's AAA gaming titles.

A M.2 solid-state drive and a 2.5-inch hard disk drive provide a combination of fast data read and write speeds, along with large storage capacities for your game and media libraries. It also includes ASUS Aura Sync lighting effects and other gaming-centric features. With all these features, GR8 II is a force to be reckoned with.
ULTRA-COMPACT GAMING. ANYWHERE.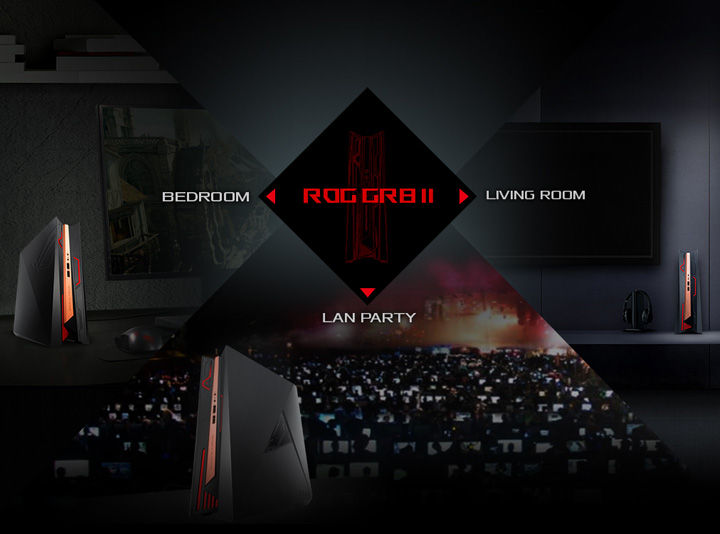 ROG GR8 II is a console-sized 4-liter gaming PC that is ideal for any room, and can be connected to your TV for big screen entertainment. It's also compact and light enough to bring and dominate at LAN parties.
STYLISH GAMING AESTHETICS.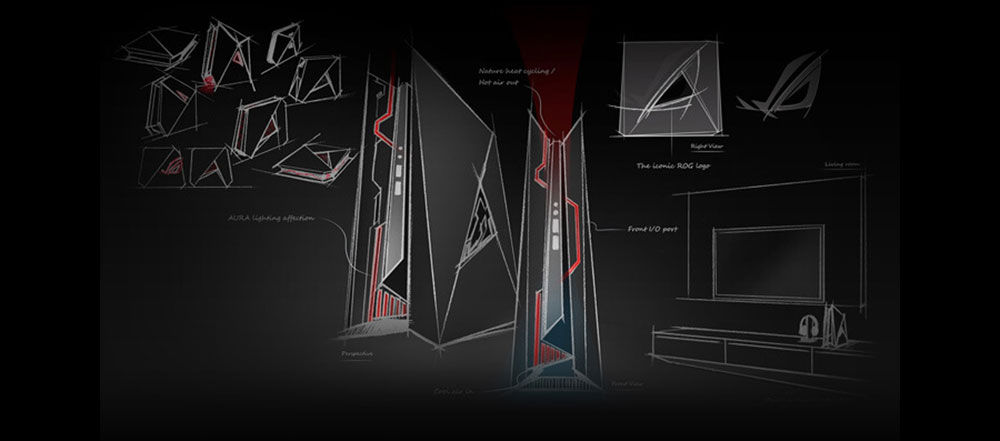 ROG GR8 II has a bold spacecraft-inspired design with a matte black finish. Compact and aggressively-designed, the GR8 II features chiseled, sharply-angled side panels and a Plasma Copper-colored mid-frame for an eye-catching aesthetic that stands out among other gaming desktops. Additional design elements include a perfectly-framed ROG logo on the side panel, along with distinctive markings and dynamic ASUS Aura effects on three areas across the front face of the chassis.
CUSTOM DESKTOP-GRADE ASUS GeForce GTX 1060 GRAPHICS.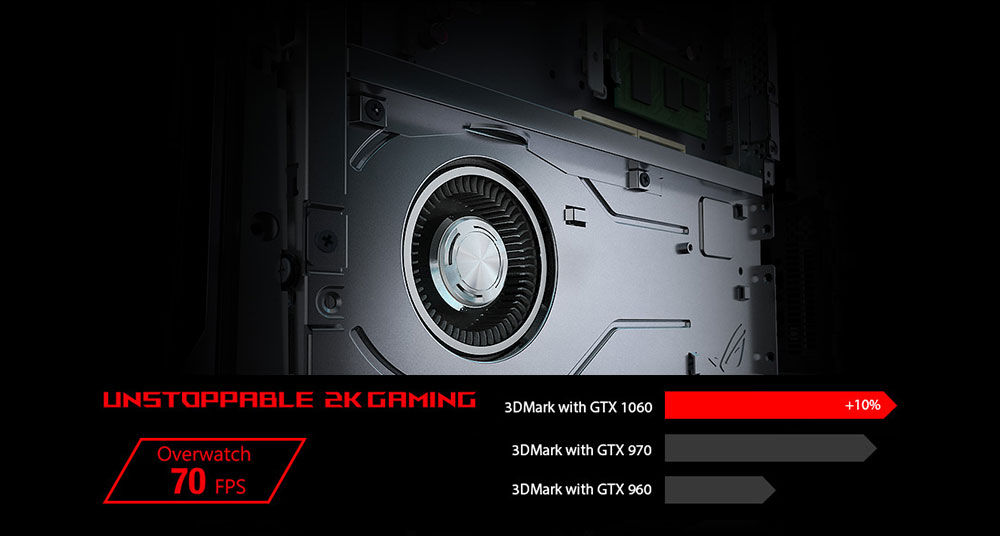 ROG GR8 II has the most advanced graphics in its class, creating immersive gaming worlds with super-smooth visuals and rich, vibrant colors. Its custom ASUS GeForce GTX 1060 graphics card utilizes NVIDIA Pascal™ architecture to provide 3x faster graphics performance versus previous-generation graphics cards for breakthrough VR experiences.

The GR8 II performed 47% better than similar GTX 960-equippped gaming PCs, and 10% better than GTX 970-equipped gaming PCs*. It ran Overwatch in 2K and Full HD resolutions at an average frame rate of 70 fps.


** ROG GR8 II test configuration: Windows 10 Home, Intel Core i5-6400 processor, 4GB DDR4-2400 DRAM, ASUS GeForce GTX 1060 graphics, 2.5-inch 256GB SSD.
BUILT FOR VR!
ROG GR8 II is built for Virtual Reality. Its VR-ready GeForce GTX 1060 GPU boosts speed and power efficiency for brilliant VR performance, while the Intel Core i7 processor decreases frame rendering latency.

Plug-and-play compatibility with leading VR headsets driven by NVIDIA VRWorks™ technologies lets you experience immersive environments with VR audio as well as physics and haptics, so you'll hear and feel every moment. Strap on your VR headset, fire up GR8 II and enjoy smooth, low-latency and stutter-free VR worlds.
EXPANDING YOUR GAMING EXPERIENCE.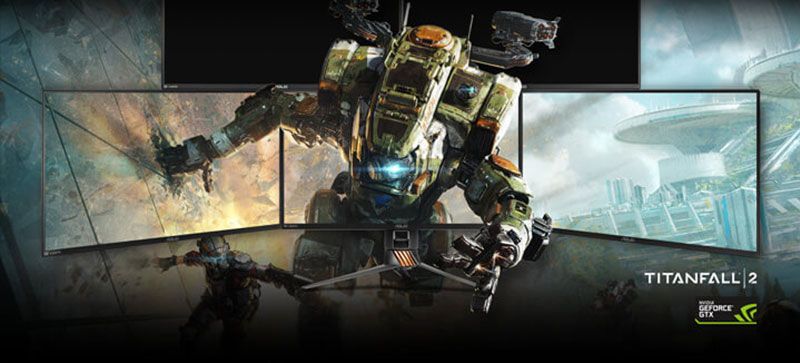 ROG GR8 II features two HDMI ports, so you can hook up two displays for your Twitch streaming session and chat room. You can even play games at their highest settings on up to three HD displays simultaneously through DisplayPort. NVIDIA 3D Vision™ technology adds an extra dimension to your gaming experience. All you need is a pair of 3D glasses for an even more immersive gaming and movie-watching experience.

GR8 II is also NVIDIA G-SYNC™-compatible. G-SYNC synchronizes your display's refresh rate with GR8 II's GeForce GTX graphics card for ultra-smooth visuals. G-SYNC helps avoid lag, minimizes frame-rate stutter and eliminates visual tearing. It delivers the smoothest and fastest gaming graphics — all without affecting system performance!
GAME COOL. PLAY SILENT.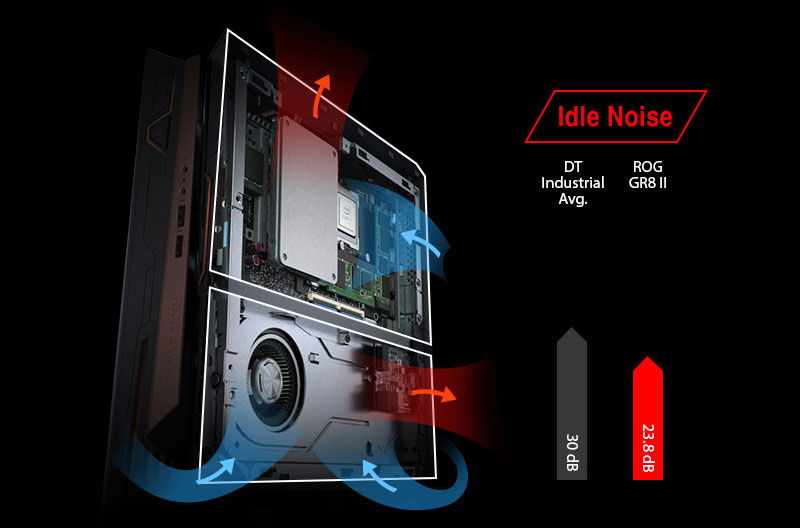 ROG GR8 II has a specially-tuned cooling system with an optimized airflow design, copper heat pipes and dual fans to purge heat from the system. Cleverly-designed vents and dedicated chambers for the processor and graphics card ensure the right amount of airflow to each component to provide you with stable performance for non-stop gaming marathons.

ROG GR8 II draws less than 30W at idle and delivers quiet performance, with noise levels of 23dB at idle and 40dB when under a full load. This low- noise design makes it perfect for your living room or bedroom.
SPEED UP YOUR GAME LOADING TIME.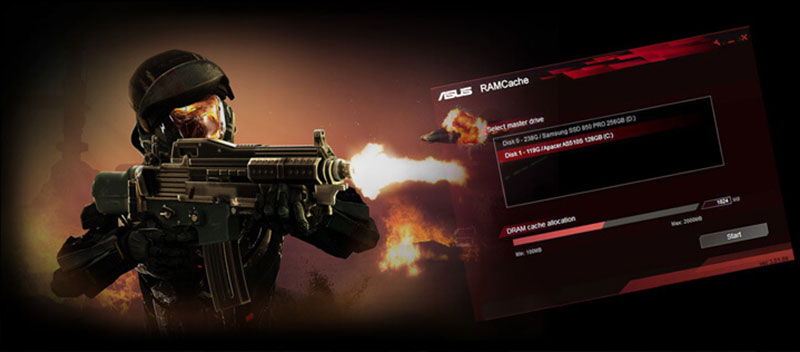 RAMCache II
Uniquely intelligent technology that effectively caches an entire storage device so that favorite games and apps launch at breakneck speeds, getting to work the moment it's activated. RAMCache II turns milliseconds into microseconds to boost game-load times -- and of course it's compatible with the latest NVM Express storage options!
ASUS AURA SYNC - A SYMPHONY OF LIGHT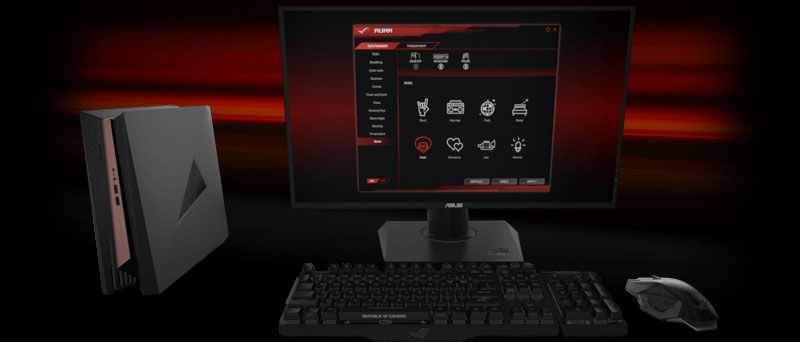 ASUS Aura Sync takes RGB lighting to the next level, offering 12 ROG synchronization modes for ROG peripherals including keyboards and mice, and 10 different lighting effects. With a color palette comprising of 8 million colors, the dynamic Aura Sync lets you tailor the LED zones to reflect the feel of the game you're currently playing.
SHIELDED AUDIO, SUPERIOR SOUND.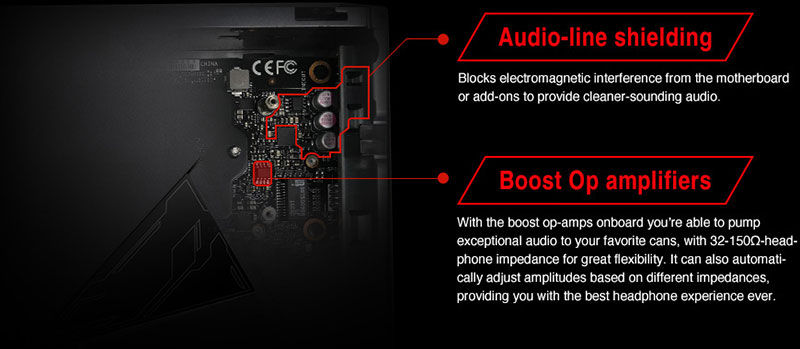 SupremeFX
ROG GR8 II's awesome SupremeFX audio technology has levelled up, delivering an exceptional 113dB signal-to-noise ratio on the line-in connection for the very best recording quality. An ultra-low distortion Texas Instruments RC4580 op amplifier helps bring out the minute audio details, even when you're listening through headphones! These features all add up for truly immersive audio.
CONVENIENT GAMING CONNECTIVITY.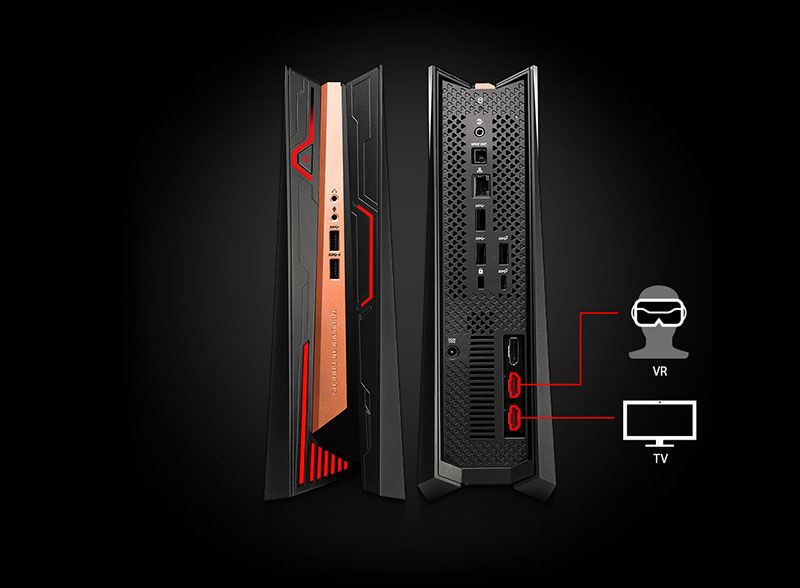 ROG GR8 II comes with all the connectivity features needed for your gaming peripherals. With a total of six USB ports (including two on the front panel), two HDMI ports and one DisplayPort, you can connect GR8 II to your VR headset and display simultaneously for immersive virtual reality experiences without having to swap cables. You can even hook up ROG GR8 II to an HDTV via HDMI for a more immersive gaming experience or big-screen entertainment.
Availability:
Ship in 24-48 Hours
Processor Type:
Intel Core i5-7400 3.0GHz
Graphic:
NVIDIA GeForce GTX 1060
Audio:
Sonic SoundStage/Sonic SenseAmp/Sonic Studio/Sonic Radar II
Front I/O Ports:
1 x Headphone, 1 x Microphone, 2 x USB 3.0
Back I/O Ports:
2 x USB 3.0, 1x USB 3.1 Type A, 1x USB 3.1 Type C, 2x HDMI, 1 x RJ45 LAN, 1 x Kensington Lock, 1 x DC-in, 1 x Optical S/PDIF out, 1 x Display Port, 1x Audio Out (Line in/Mic in/Speaker out)
Power Supply:
120 W Power adaptor
Accessories:
AC Adaptor, Power Cord, Warranty Card, User Manual, Quick Start Guide
Item Dimension (L" x W" x H"):
11.7 x 11 x 3.5
Warranty:
1 Year Warranty
1 Year Manufacturer Warranty