Razer BlackWidow Chroma – Feel the Difference
The Razer BlackWidow mechanical gaming keyboard was first launched in 2010 and quickly became the most popular and highest selling gaming keyboard worldwide, making its mark as the primary choice for eSports athletes.
World's First Mechanical Switch Designed For Gaming
Four years later, the Razer Mechanical Switch was introduced, giving the Razer BlackWidow an even greater advantage with the world's first mechanical switch designed from the ground up specifically for gaming. This enabled gamers to take their skill to the next level with more speed and precision than ever before. By redefining the limits of performance, this elite mechanical gaming keyboard left the competition in the dust, even faster than before.
Color it Up
Now with Chroma customizable backlighting, this gaming icon is raising the bar once again by introducing individually controlled multi-color backlit keys that allow for extreme customization. Bearing the distinct Razer BlackWidow design, the Razer BlackWidow Chroma gives you the unbridled freedom to truly express yourself, not just with an impressive spectrum of colors but with personalized lighting controls as well.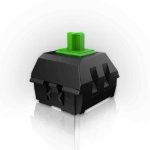 All-new Razer Mechanical Switches
Designed from the ground up specifically for gaming, the all-new Razer Mechanical Switches have an optimized set of actuation and reset points that improve your gaming performance by giving you speed and responsiveness like never before.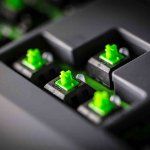 Greater durability
No matter how intense your gaming marathons get, each Razer Mechanical Switch is engineered to withstand up to 60 million keystrokes, so you'll enjoy the Razer advantage for longer.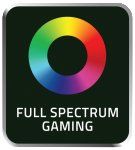 Chroma backlighting with 16.8 million customizable color options
The Razer BlackWidow Chroma features individually programmable backlit keys with 16.8 million color options, all easily set through Razer Synapse. From preloaded lighting effects for different types of games, to your own custom uniquely programmed palette of colors, you can effortlessly enhance your gaming experience in a way that is unique only to you.

Inter-device color synchronization
Whether it's your favorite shade of green or your guild colors, Chroma gives you the freedom to decide. It could be one, three or even thirty-seven colors, with a spectrum of visual effects featuring 16.8 million colors; the possibilities are whatever you can imagine. With inter-device color synchronization, your Razer Chroma enabled Razer gaming weapons will always go together perfectly.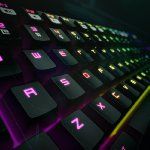 Razer Chroma SDK
All Razer Chroma enabled devices come with an open SDK that will allow game developers to take advantage of the multitude of lighting options available for Chroma by integrating these advanced lighting effects to create in-game lighting alerts or actions per minute lighting features.

Custom lighting controls via Razer Synapse
Razer Synapse is a cutting-edge, intuitive software that functions as the Razer BlackWidow Chroma's brain. Sync your personal lighting settings – ranging from Spectrum Cycling, Breathing, Custom, Preloaded Templates, Reactive, or Wave – automatically with this unified cloud-based configurator.