(For Commercial/ Education Only)
Call Us for Availability!
GOOGLE EXPEDITIONS APP
Google Expeditions is a virtual reality teaching tool that lets you lead or join immersive virtual trips all over the world — get up close with historical landmarks, dive underwater with sharks, even visit outer space!Built for the classroom and small group use, Google Expeditions allows a teacher acting as a "guide" to lead classroom-sized groups of "explorers" through collections of 360° and 3D images while pointing out interesting sights along the way.
Features:
• Guide classroom-sized groups of locally connected users from your phone or tablet.
• Explore along with a guide in immersive VR by putting your Android phone into a Google viewer.
• Connect devices over the same WiFi network - if the Guide has downloaded some Expeditions, there is no internet connectivity required to run the Expedition!
• Choose from a growing list of over 200 Expeditions - each one is a curated set of VR imagery along with integrated descriptions, talking points and questions.
List of Available Expeditions (click link to view)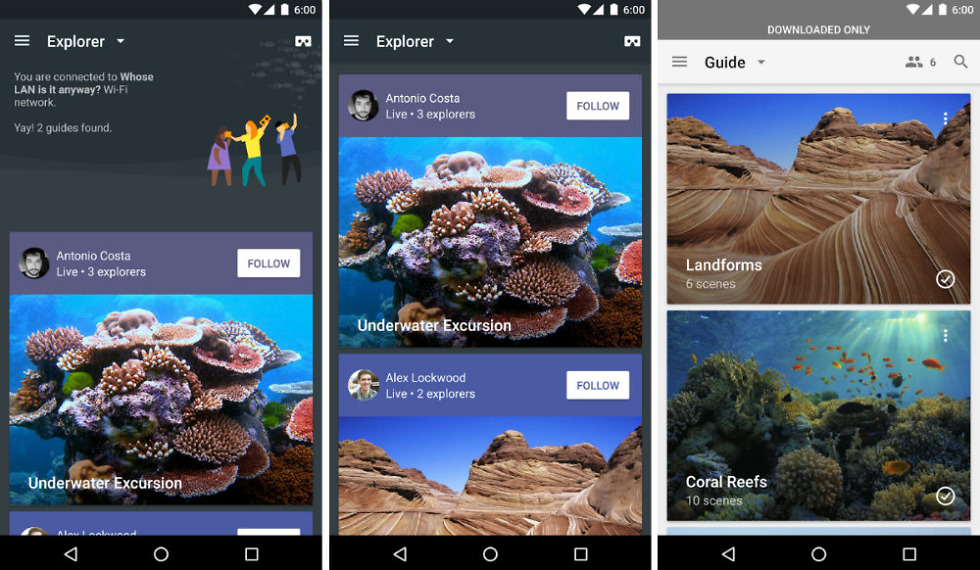 WE HAVE THE RIGHT KIT READY FOR YOU
INTRODUCING GOOGLE EXPEDITIONS VIRTUAL REALITY KITS
Enhance your classrooms with Virtual Reality and create a more engaging experience for your students without breaking your budget. With the continued growth of Google's Expeditions VR Kit, a free app for schools to take their students on field trips around the world, the pressure is on to provide the platform and tools to make it possible. We have the solution you need.
Cost-Effective:
Virtual Reality used to be out of reach for schools with limited budgets. Not anymore!

Ready Out of the Box:
No set up or cabling required. All you need is the VR kit and the free app Google Expeditions.
VR Kits come as a 10-pack, 20-pack, or 30-pack and include the Magellan, the first purpose-built device for Google's Expeditions VR Kit. This Android device was designed with students in-mind to optimize the virtual reality playback and viewing experience at an unparalleled value, allowing for your students to experience all that Google's Expeditions VR Kit has to offer.
Easy to set up and deploy, these kits come ready to go right out of the box. You will be exploring new worlds within minutes of receiving your kit.
Heading:
Package Contains:
Networking:
1 x Asus Dual Core Router
Tablet:
1 x Asus Teacher Tablet
VR Device:
20 x Android VR Device
Storage:
2 x Storage Charging Cart
Viewers:
20 x VR Student Viewer
Heading:
Android VR Specs
CPU:
Qualcomm MSM8976 (without transceiver functions): 4*1.8GHz+4*1.4GHz(8 Core)
GPU:
Adreno 510 (UI 2560x1600 60+fps); 550MHz; Open GL ES 3.1+AEP; Open CL 2.0; DX12​; Vulkan, 128 ALUs
Memory:
16GB Flash / 2GB RAM (2 x 933MHz LPDD3)
Sensors:
gyroscope, magnetometer, and accelerometer are supported
Display:
5.5",FHD 1920 x 1080P TFT
WIFI:
Qualcomm WCN3680B, 2.4GHz and 5GHz are supported
Bluetooth:
Qualcomm WCN3680B, BT Low Energy is supported
Camera:
8M Pixel Rear Camera
Model:
Explorer Mixed Reality Headset