NVIDIA® GeForce® GTX 1070: The Ultimate Performance
The new NVIDIA® GeForce® GTX 10 series GPU features the latest Pascal™ architecture, breaking the limits of laptop performance. The new GPU delivers not only the ultimate performance and efficiency, but also easily provides an immersive Virtual Reality (VR) experience and smooth high-res gameplay. Hardcore gamers can now possess over-the-top performance on the mobile platform with crystal clear, captivating motion graphics, and jaw-dropping visuals.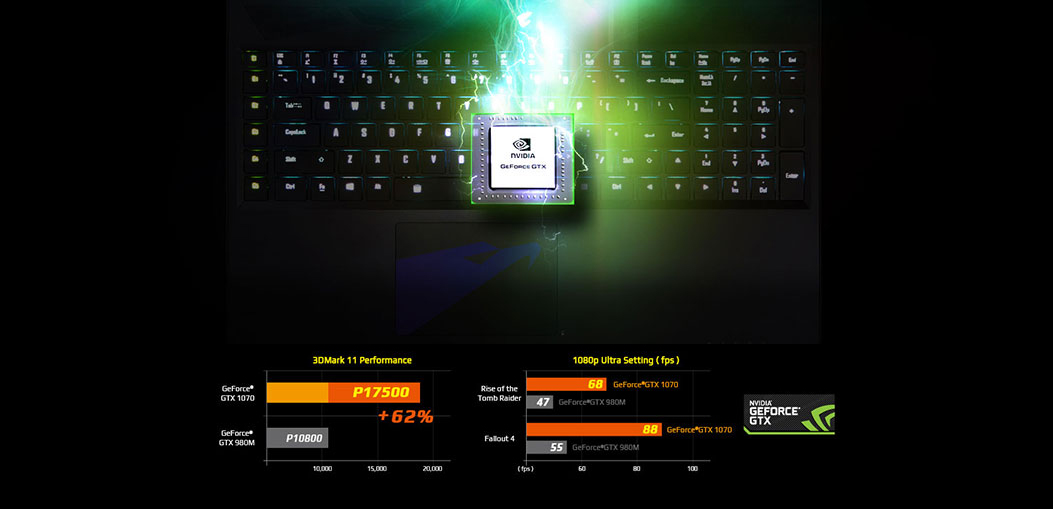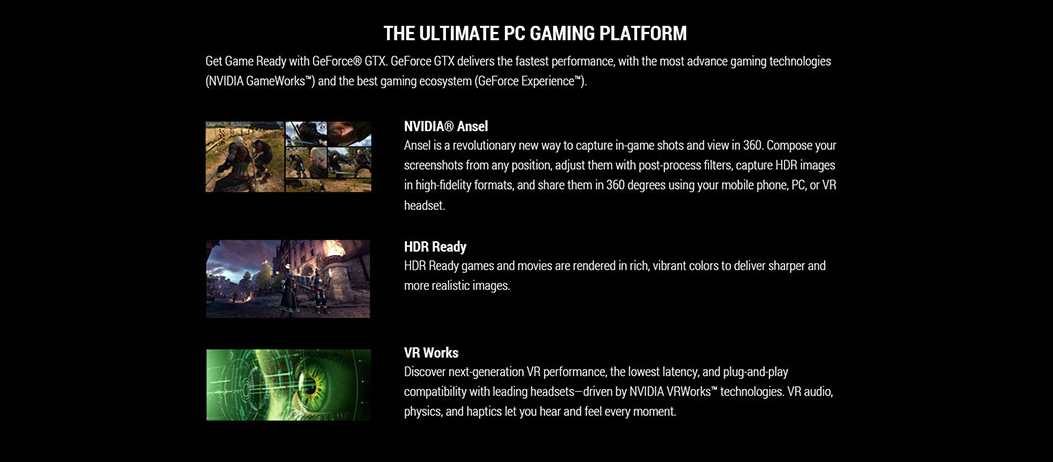 7th Gen Intel® Core™ i7 Processor : Here Comes the New Generation of Performance
With the latest "Kaby Lake" architecture, the 7th Generation Intel® Core™ i7 Processor outperforms its predecessor in every aspect. Added with HEVC10b and VP9 decoding for that extra 4K playback smoothness. AORUS further presents one click overclocking ability that increases your CPU speed of up to 15% over the Intel 7700HQ CPU. Experience seamless next generation gaming performance!

*The overclock-able range may vary by CPU limitation, even on same model.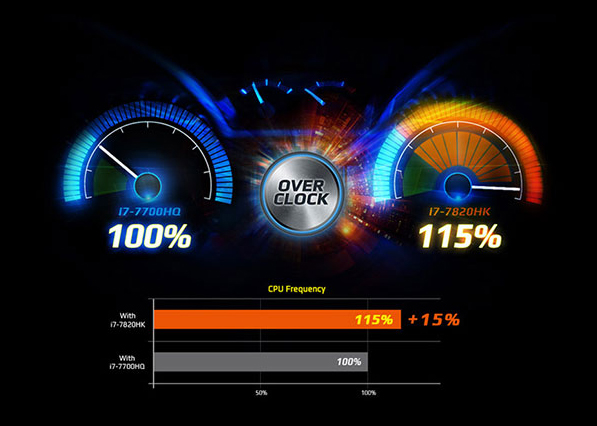 Multi External Display Support: Build Up Your War Room
Open up to more possibilities with the X5 v7. With the introduction of Thunderbolt™ 3 port, you can now connect up to a total of 3 external 4K displays. Watch a strategic gaming video while gaming, check and control your music without exiting the game or go all out immersive with NVIDIA® Surround. Do more and enjoy more, now made possible with the X5 v7.

*Connect 3 external displays through the combination of HDMI, mini-DP and Thunderbolt™ 3 ports.

M.2 PCIe SSD: The Next Storage Revolution
With mSATA technology limiting SSD's full potential; it's time to be out with the old, and in with the new! Perfected PCI Express SSD technology with the next generation form factor, M.2 is like a breath of fresh air to storage performance with its mind blowing speed! With a single drive reaching 2000 MB/s, game loading and system booting all happen in the blink of an eye. Being 4x faster than any traditional SATA SSD, the benefits are obvious: the faster it is, the better it is. All these are found in the X5 v7 which houses three 512GB M.2 PCIe SSD and one 2TB HDD, providing you a massive storage up to 3.5TB!

*Product specifications and availability may vary by country and region. We recommend you to check with your local dealers for the latest product information.

HDMI 2.0: True 4K Ultra HD
The era of true 4K Ultra-HD is upon us! The untapped potential of 4K resolutions is realized through HDMI 2.0! Unlike HDMI 1.4 which only supports 8-bit color and 30 FPS, HDMI 2.0 can display games like never before! Supporting up to 18 Gbps transfer, the true potential of 4K resolution is realized through 12-bit color and 60Hz refresh rate! Finally see your favorite games how they were meant to be seen, in true high definition!
* Requires HDCP 2.2 supported monitors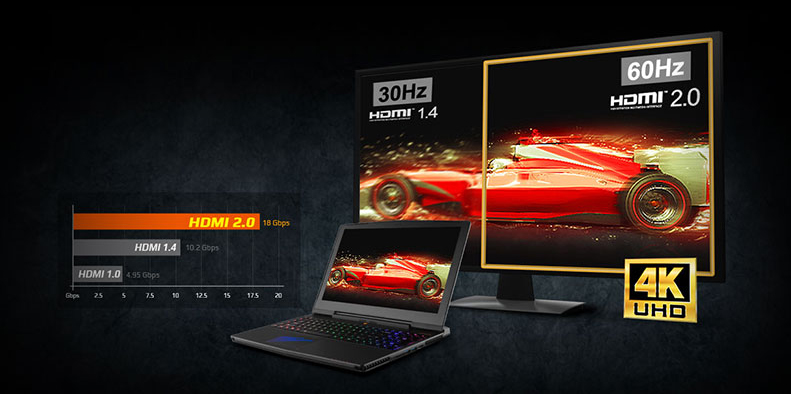 Thunderbolt™ 3 | The Fastest, Most Powerful All In One Port
The Thunderbolt™ 3 comes with outstanding capabilities such as transfer speeds up to 40Gbps, device charging with 5V/3A currents and connecting plug 'n' play external graphics. The Thunderbolt™ 3 is the most powerful compact and versatile port to date.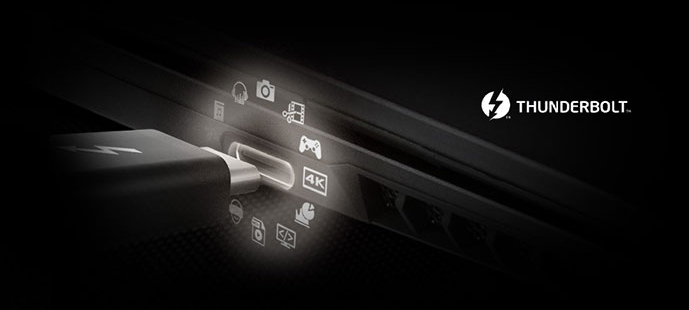 RGB Fusion Keyboard | In The Dark There is Light
The all-new AORUS RGB Fusion features per-key RGB backlighting in 16.8 million color variations, delivering virtually unlimited customization. Each and every key can be customized to light up only the required keys for each application, allowing the user to instantly identify which keys to press. Users can go a step further and setup animated illumination effects like breathing, waves, and ripples. Per-key backlighting can achieve not only practical benefits of quick identification, but also a unique visual experience and endless customization. The Fusion app can combine audio, backlight, and macro settings to profiles, and switch automatically between games or applications.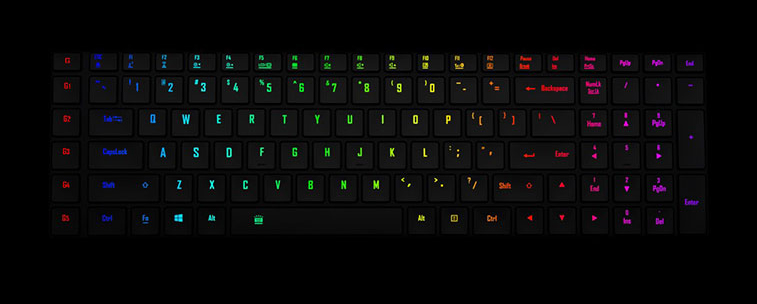 XSplit Gamecaster + Broadcaster: Cast your Game Anytime, Anywhere
Now set up your stage and share the greatest gaming moments with XSplit Gamecaster + Broadcaster! Fully optimized social media integration is ready for real-time chats—keeping you notified yet focused in the game. It takes just one click to stream your gameplay to Twitch. Host your game like a pro! The show starts wherever you flip open your AORUS X5 v7.

*Free 1-year XSplit Gamecaster + Broadcaster Premium License.

TriDef® SmartCam — Custom Stream Modding
To facilitate being the full streaming solution each unit includes TriDef® SmartCam software, you are now able to remove backgrounds without the hassle of using a green screen. Through the SmartCam application you can now apply live filters, and fully control your background, not only while streaming, but also through other video applications such as Skype.

* Free 90-Day TriDef SmartCam License

Chassis Designed for Cooling | Optimal Air & Heat Flow
With AORUS putting a great emphasis on slimness we are always looking for ways to improve our thermal design for a cooler and quieter experience. With the new ID changes, comes the addition of two new air intake vents. With more intake airflow, we've seen a 9°C improvement in GPU and CPU temperature. Together with 6 heat pipes, 4 exhaust vents, 2 fans, along with AORUS exclusive Custom fan control, your system will run even cooler and perform above and beyond.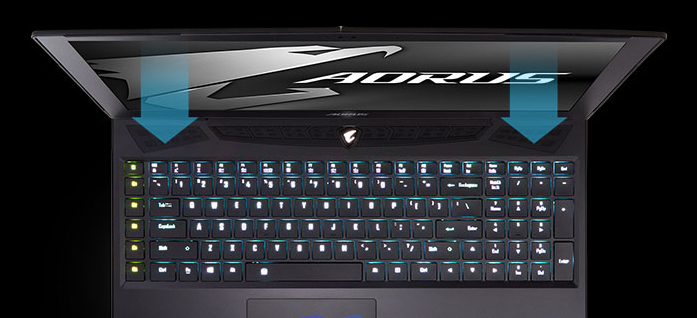 Killer™ DoubleShot™ Pro | Full Bandwidth Utilization
Killer™ DoubleShot™ Pro provides unprecedented speed, intelligence, and control for systems with Killer™ Wireless adapter and a Killer™ Ethernet controller. DoubleShot™ Pro automatically picks the fastest network connection and sends all high priority traffic over that interface. All standard traffic is then sent over the other interface. This ensures the highest priority traffic will always be put on the fastest and most reliable link, giving you lag free gaming experience even while running multiple downloads the same time.

Processor:
Intel Core i7-7820HK (2.9GHz - 3.9GHz)
Screen Type:
UHD IPS Anti-Glare Display, Supports NVIDIA G-SYNC™
Graphic:
NVIDIA GTX 1070 8GB
Memory:
16GB DDR4 2400MHz
Max Slot:
4 Slots, Max 64GB
Bluetooth:
Bluetooth V4.1+LE
Mic-in/ Headphone-out:
Internal Microphone
Speakers:
1.5Watt Speaker x 2
Card Reader:
1 x SD Card Reader (UHS-II)
Mini-Display Port:
1 x Mini-Display Port
Video Graphics Array:
N/A
Thunderbolt:
1 x Thunderbolt 3.0
USB:
4 x USB 3.0 (Type-A)
USB Type C:
1 x USB 3.1 (Type C)
Keyboard:
AORUS RGB FUSION Keyboard with per key backlit control Individual Macro Keys
Battery:
Li Polymer 94.24Wh
Dimensions:
15.35 x 10.71 x 0.9 inch
2 Years Global Warranty